Rough Diamonds – More than Just an Ethically Sourced Engagement Ring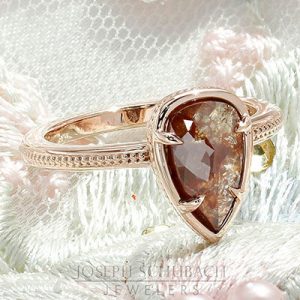 If you think about it, this rough diamond engagement ring trend may have more social significance than a mere fashion choice. Women are now seeking a gem that reflects a respect and adoration for flaws and imperfections.
Simply put, rough diamonds are diamonds found in their natural state. Their inclusions are part of their beauty.
"Flawless" and "perfection" are taking backseat to the raw, natural beauty of rough diamonds–and hopefully with the way women view themselves in general.
Raw, rough diamonds are also distinctly individual (just like the wearer). Each gem has its own story to tell. The charm emanates from the imperfections and challenges our very idea of what is beautiful.
"There is nothing more rare, nor more beautiful, than a woman being unapologetically herself; comfortable in her perfect imperfection."
Rough diamonds (or raw diamonds) are becoming a go-to choice for millennial brides seeking engagement rings. And for obvious reasons: there's an increasing awareness of the damage that traditional diamond mining is doing to our ecology; rough diamonds means a wiser choice for our planet.
But more than that, there's a rustic simplicity to rough diamonds that appeals to young brides. After generations of seeing the same types of engagement ring cuts, today's woman seeks something more distinctive and natural as a fashionable departure.
Whatever your reason, we're happy to custom design a rough diamond engagement ring that suits your untamed and natural side.
"Nothing and no one is perfect. It just takes a good eye to find those hidden imperfections."