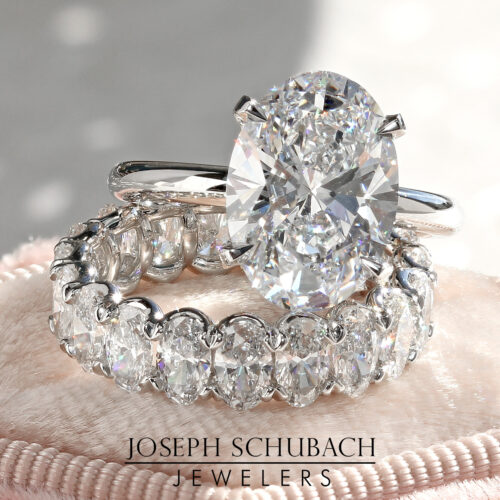 Meet "The Duchess" an extraordinary custom-designed ring by Joseph Schubach Jewelers that transcends the boundaries of elegance, paired here with a studded wedding band. This exclusive set is a manifestation of true bespoke craftsmanship, meticulously shaped by our skilled jewelers based on every intricate detail requested by the customer.
The Duchess stands as a beacon of personalized luxury, an authentic embodiment of your unique vision transformed into reality. Paired seamlessly with a custom oval eternity band, this set is a testament to the limitless possibilities of bespoke jewelry.
This set showcases the exceptional artistry of our High Bench. Crafted with precision, the head of The Duchess has been raised to sit flush, creating a seamless union between the ring and the matching band.
Note that the band itself is ingeniously low, thanks to our High Bench's expert craftsmanship. Every stone in the band is meticulously mapped out to fit flawlessly within its setting, resulting in a harmonious symphony of brilliance.
If you're seeking a ring that not only meets but exceeds your expectations, ring us up today. Joseph Schubach Jewelers is your destination for bespoke creations that narrate your story, where each element is a reflection of your individuality. Experience the true essence of custom design that surpasses imagination.