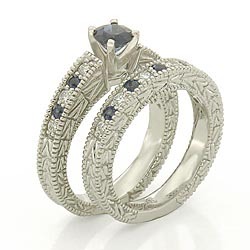 Congratulations goes to
Courtney Semeniuk and his wife Nikki for winning 27% of the votes of the Custom Jewelry Design Contest with
his Azure Dream entry, a custom made 14kt white gold engagement ring
and matching wedding band made with natural diamonds and natural
sapphires.
Here's the great part about the Semeniuk's winning is this contest. The day we notified them that they had the winning entry was the same day they brought their new baby, Leland, home from the hospital. How cool is that???
Here are the final results for the contest. Click on the image to see a larger view.
Thanks again to everyone who participated in our first ever Custom Jewelry Design Contest and thank you for allowing us to make the jewelry of your dreams!