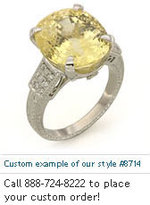 Thanks to all of you who participated in the first ever Custom Jewelry Design Contest! We received many great design ideas – some completely custom,
several variations of classics and a few inspired by the world's
greatest jewelry designers. More importantly, those who entered can now
enjoy the jewelry of their dreams for a long time to come! See this testimonial.
The
contest gallery will be updated as the pieces are finished and
photographed. Starting in early May, we'll open up the contest to
voting – so your friends, family and all our site visitors can vote on
their favorite designs. The owner of the winning design will receive a
credit of $2,000 toward his or her custom purchase!
If you would like to receive updates and announcements, be sure to sign up for our special design contest email list and encourage your friends and family to sign up as well!
We hope you had as much fun as we did!