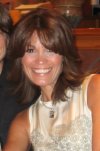 The team at Schubach Jewelers is a tight-knit group, happily doing what they do best: selling quality jewelry to discriminating customers. Today, we're showcasing Ms. Beth Nicastro, who's been with Schubach Jewelers since 2004. 
In her own words:
"
My favorite projects are the custom designs," she says. "I love it when a customer sends us a photo out of a magazine or a drawing from their imagination and we bring it to life."
And here's what one customer had to say:
Hi Joe,
I just wanted to let you know I have been working with Beth on my ring order for the last month and she has exhibited the greatest level of customer service I have come across at any company.  I have changed orders, returned rings and she has helped me finally find exactly what I have been looking for in a ring.
She is always polite and willing to help and has been an absolute pleasure to work with.  She is a great asset to have at your company.  As a small business owner myself, I know how difficult it can be to find quality employees and Beth has gone above and beyond to help me with finding a ring.
You have a great website and great customer service.  
Thanks
Jessica 
Call Joseph Schubach Jewelers today if you have a dream piece of jewelry you want custom designed, such as this artful piece:

 Joseph Schubach Jeweler's Custom Pave Diamond Weddding Band