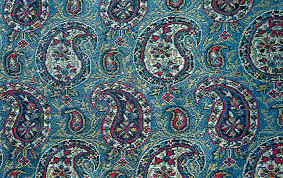 Most of us are familiar with the paisley pattern, a design with a lengthy history. Persian in origin, the design became popular in the West in the 18th and 19th centuries.
What is a "paisley" exactly?
Well, Paisley is a town in Scotland where paisley designs were produced. But the actual symbol resembles a twisted teardrop or a fig.
Paisley became hot during the psychedelic era of the 70's where the influence could be seen in decor, fashion and even in rock and roll (where bands like the Beatles brought this design motif into the forefront).
But what about paisley design in jewelry?
Often overlooked is the paisley imprint in jewelry making, which extends back centuries. A symbol of growth and fertility, the paisley motif can be seen in jewelry around the world.
As custom design jewelers, we too have worked with this powerful design, most recently in the eternity bands below. What better symbol to represent long-lasting love than a design that's been equally as long lasting?
If you have a symbol in mind that you want integrated into your custom design jewelry, contact us.