Many women face a problem when it comes to choosing wedding and engagements rings: they don't like their hands.
"My fingers are short and stubby."
"I don't have time for manicures. My hands are a mess."
"My hands are bony. A ring just accentuates it!"
We've heard it all here. But just like any other fashion choice, a properly chosen ring can enhance what you like about your hands and downplay what you don't like.
According to this fashion expert Melanie Spark:
Rings can elongate your finger. If you choose a ring style that is longer than it is wide, it can actually make your fingers appear longer. If you have short fingers, perhaps you enjoy the look of an elongated and graceful hand.

The length of a ring is measured from top to bottom or, visually, as it would appear from knuckle to knuckle. The width of a ring is measured from side to side or, visually, as it appears horizontally while sitting on your finger.
See? There is hope for you and your hands. Here's a simple, elegant engagement solitaire ring that we think works with most women's hands, across the board: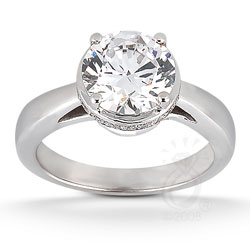 Style 9915-7.5mm
Four prong solitaire engagement ring with 1/10ct t.w. pave' diamonds. Fits an 7.5mm round center stone. (setting only, does not include center stone)