Sizing your ring finger correctly is key to a happy relationship between you and your new work of art. A ring that doesn't fit correctly is more likely to fall off or simply be a constant nuisance. Take the time to do it correctly with the tips below:
Find a piece of string or strip of paper no wider than 3/4 inch. Wrap it around the base of the appropriate ring finger. Use a pen to mark the point on the string/paper where it overlaps, forming a complete circle.

With a ruler with millimeters (mm), measure the length from the starting end of the string/paper to the pen mark. This is your ring size in millimeters. Now use the chart below to determine your ring size.
Ring Size
(USA)

Measured Size
(mm)

3

44.1

3.5

45.4

4

46.7

4.5

48.0

5

49.2

5.5

50.5

6

51.8

6.5

53.1

7

54.3

7.5

55.6

8

56.9

8.5

58.2

9

59.4

9.5

60.7

10

62.0

10.5

63.3

11

64.5

11.5

65.8

12

67.1

12.5

68.3
Some more tips?
Don't measure cold fingers, as this is when fingers are their smallest.
For the most accurate reading, measure the finger at the end of the day when the finger is the largest.
If you're buying the ring as a surprise, ask your partner's mother or a friend if they know the finger size.
Borrow one of your partners rings and slide it down a tapered candle. Then measure according to the chart above.
And here's a ring that fits any woman's heart: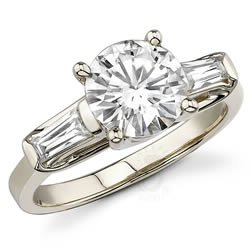 Style 9193MR
Round Moissanite Ring With Two Side Baguettes
This delicately styled, hand made classic has a round Charles and Colvard created moissanite and a .21ct baguette moissanite on each side.
Available Moissanite Total Weight: 1.42ct-2.42ct
Call for Platinum Pricing