Gemesis cultured diamonds are becoming increasingly popular for a vast array of reasons but the main ones include extremely high quality, affordable price and ecological conscientiousness. The consumer of today wants to feel decked out in jewels but in a way that's in step with our time.
Gemesis began creating diamonds in its laboratories in the 1990's. According to Wikipedia:
While visiting Moscow in 1995 someone asked retired Army General and
West Point graduate Carter Clarke if he wanted to buy a diamond making
machine. Three months later he visited Moscow again with the scientist Reza Abbaschian
and brought 3 of the machines and also 3 Russian scientists to
Sarasota, Florida.
After 7 years of research and development in
cooperation with experts from the University of Florida his company brought high quality diamonds onto the market.Gemesis started marketing its diamonds by polishing them and selling directly to jewelry retailers.
Since then, the quality and craftsmanship of their product has steadily increased. We have a wide array of Gemesis diamond jewelry to choose from – or better yet, tell us what you'd like to create and we can make your dream piece for you.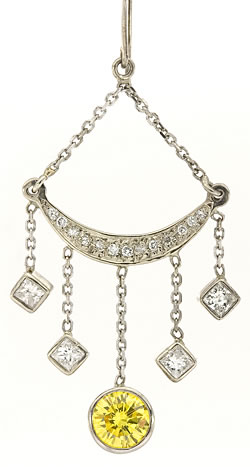 Hand made "half moon"
chandelier earrings with 1ct t.w. Gemesis cultured diamonds in fancy
yellow or orange color, 1/4ct t.w. pave natural round diamonds and
1/2ct t.w. natural princess cut diamonds (1 3/4ct t.w.). Earrings
measure approximately 1.5" without the ear wire. 
 
Available Metal: 14kt White Gold, Yellow Gold And Platinum