By understanding the workings of a gem manufacturer, one can also get a better idea on the economy as a whole as well as creative ways in which a company can focus its energies during lean times.
Recently Rob Bates of JCK Online had a conversation with Gemesis to get a sense of their current direction:
I just had a quick talk with Steve Lux, the president and CEO of Gemesis, which produces cultured/lab-grown diamonds, and he gave me this update on his company. Not surprisingly, it's dealing with a lot of the same problems everyone else is:

– The company has irked some of the people in its distribution chain, by trying to sell direct to privates. "FOR A LIMITED TIME! BUY DIRECT! Looking for a Gemesis diamond? Call us direct," the front page of its web site says.

Lux says those sales are "on a limited basis. It's the lesser goods and we don't sell jewelry.  Wholesalers haven't been buying much and frankly we felt we needed to take some action. Because the industry has been in a difficult situation we are doing what we can and figure anything that moves helps everyone."

– Lux is happier to announce that his company is now able to regularly produce larger size goods, particularly six carat rough in the "cognac"/whiskey colors.

– Its attempts to manufacture pinks have been "disappointing," Lux admits.  It is, however, regularly producing blues, of about ¾ carat polished.

Any attempt to manufacture whites has been put on hold, he says, as it doesn't make sense economically with price drops on natural colorless stones.

"We have been busy from a technology point of view, which is what our investors wanted us to do during this down time," he said.
One thing is for sure: people on a limited budget are looking more towards high-quality alternatives like Gemesis for the upcoming holidays. Because, as the adage goes, "all that sparkles is not gold."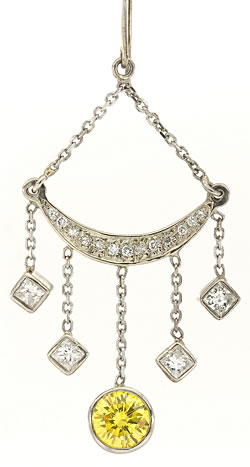 Style 7285GM
Hand made "half moon" chandelier earrings with 1ct t.w. Gemesis cultured diamonds in fancy yellow or orange color, 1/4ct t.w. pave natural round diamonds and 1/2ct t.w. natural princess cut diamonds (1 3/4ct t.w.). Earrings measure approximately 1.5″ without the ear wire.
Available Metal: 14kt White Gold, Yellow Gold And Platinum