(above) A variety of Gemesis cultured diamonds offered at Joseph Schubach Jewelers for custom designed jewelry, where you are the artist

So what is Gemesis and why is it causing such a stir in the market?
Well, let's explore what Gemesis is not, first:
It is not a diamond imitation, like cubic zirconia
It is not as expensive as mined diamonds
It is not lacking in brilliance, fire or hardness as a mined diamond
Gemesis is a laboratory-grown diamond of exceptional color and clarity. It is considered a "cultured" diamond but a diamond nonetheless.
How does one "grow" a diamond?
With a diamond seed, of course! Seriously. The seed is placed in a carbon-rich environment, heated and pressurized, then begins to grow, molecule by molecule into a beautiful gem.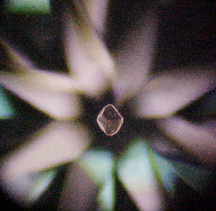 A diamond seed (do not try this in your garden!)
Gemesis diamonds can be produced in a myriad of rich, inviting colors such as yellow, pink, blue, green, or even red. In these times, customers are looking for a quality gem and affordable prices. Gemesis offers just that, hence its success.
So what is a "Gemesis cultured diamond"? As the Gemesis Company puts it so aptly:
Hand engraved pendant with hand applied scrolls and a 3/4ct Gemesis
cultured diamond with fancy yellow or orange color on an 18″ wheat
chain. Pendant measures approx. 8mm in diameter.
Available Metal: 18kt White Gold and Platinum
Available Stone Size: 3/4ct