Freshwater pearls have a bad rap. They are often considered the poor step-cousin to the ever-glamorous saltwater pearl. For many years, freshwater pearls came in awkward sizes, rough textures and garish colors. But the past ten years, the freshwater pearls have experienced a real "makeover" in the jewelry world.
Freshwater pearl farmers have revamped their cultivation and processing techniques, creating a pearl that is comparable to saltwater pearls in luster and nacre.
Thing is, seawater pearls are very regulated to ensure that the customer is only presented with the cream of the crop, whereas freshwater pearls don't have the same restrictions. In other words, you have to find the right jewelry dealer with the highest quality product.
That's where we come in. For a short time only, we're offering luscious, high-quality freshwater pearls at a price that won't cost a lot of clams.
As the economy worsens, more customers are opting for the quality, revamped pearls, which give expensive cultured pearls a run for their money…literally.
Take a look at the photo below (courtesy of The Pearl Outlet) of a strand of saltwater pearls (running close to $19,000) entwined with a strand of freshwater pearls: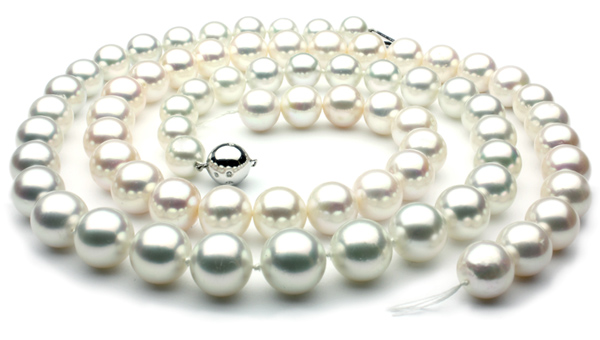 Click on the photograph. Look closely. Can you tell the difference? That's how far Freshwater Pearls have come!
For the full pearl experience, view our
wide array of oversized Chinese Freshwater Pearl necklaces, available
for a limited time only.