A few weeks ago we sent out a press release about a fund raiser for the Arizona Theater Company. In it we mentioned that we were designing and donating a custom made ring for the event. (Download Press Release)
The fund raiser took place March 16th at the Phoenician resort and was a huge success. It hosted a fashion show featuring gowns designed by Dancing with the Stars' Randall Christensen and 30 original designs by William Travilla, the designer of the famous white dress worn by Marilyn Monroe.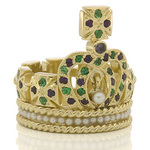 The crown ring was raffled off and
Mary Artigue of Phoenix, Arizona, was the lucky winner! The ring is completely hand crafted in 18kt yellow gold and has round cut amethyst, tsavorite (green) garnets, natural and cultured pearls. (click on the image for a larger view)
Green garnets? Most people think of garnets as the brownish red color gem that is the birthstone for January. Tsavorite garnets range in colors from light green to a beautiful grass green to a deep forest green. It is a relatively new gemstone, discovered in Tanzania in 1967 and not commercially mined and marketed until the early 1970s by Tiffany and Co. Tsavorite garnets are great for jewelry because of their affordability, beautiful colors and their relative durability compared with emerald. They are available in smaller sizes up to a couple of carats. For additional information on these gems, visit the International Colored Gemstone Association Website.
Amethyst, on the other hand, has a long and rich history. The birthstone for February, amethyst is a stone of royalty. It is rumored to have many miraculous powers from aiding in health to bringing fortune to driving away evil spirits.

We like amethyst because it's beautiful, affordable and because it's available in our back yard, in addition to the supernatural powers!


Friends of ours, Mike and Jerry Romanella, run the Arizona Four Peaks amethyst mine just outside of Phoenix where they are producing very high quality material.
Several years ago we were lucky enough to take the 4 hour hike and tour the mine. For more info on amethyst visit the ICGA website. For additional information on the Arizona Four Peaks amethyst mine visit the Four Peaks amethyst website.