March 6, 2013
I read this in a Glamour article and begged to disagree. They had this to say about earring choices for bridesmaids:
DO go big!
Especially if you're wearing your hair down! Dainty earrings will get lost in your hair. Punch up your look with some dramatic statement earrings!

Vintage Chandelier Earrings

Chandelier Statement Earrings

Now, in my opinion, bridesmaids' dresses can often be showy and over-the-top. And even if they are subtle, large earrings can be distracting. The idea is to enhance the look of the bride, not upstage her.

Here's a pair of earrings I'd suggest for either type of dresses, whether it be ostentatious or ordinary:

Style 10361MS

Round Moissanite Inside-Outside Hoop Earrings

Inside-outside hoop earrings with approximately 9/10ct t.w. (dia equiv) Charles and Colvard created round moissanite stones. Each earring measures 16x2mm wide, set in 14kt white gold.

Available in different metals, please call for more info.
March 1, 2013
There are many different types of chain necklaces but one major consideration before choosing type is the length. A necklace that fits too snugly around your neck can be plain uncomfortable. Conversely one that hangs too long might "lose" your pendant under necklines of clothes. Here's a quick guide found in RedEnvelope.com.

16-Inch Choker Length

The 16-inch choker length chain necklace is designed to draw attention to the neck and collarbone and can be worn as a standalone chain or with a small pendant. These necklaces fit snugly against the skin and can be worn with a strapless dress or strapless top, or with a shirt or dress with a deep neckline.

18-Inch Princess Length

The 18-inch princess length chain is the most common length for necklaces, and hangs just at or below the collarbone. They are typically made with very skinny link designs so that they can accommodate a pendant. They usually serve more of a functional purpose than a visual one, and very delicate styles are almost invisible to the eye.

24-Inch Opera Length

The 24-inch opera length chain is among the most dramatic types of necklaces and is typically worn outside of the outfit with a large pendant, or as a set of chains to become the focal point of the ensemble. This type is designed in a variety of link styles, including the classic Figaro, cable, box, herringbone and serpentine.

30-Inch Below Bust Line Length

A necklace chain that is between 30 and 36 inches in length hangs just below the bust line and is typically worn over a shirt or blouse. Chain necklaces of this length can be made with a variety of lengths and widths, with link styles including the box, cable, curb, Figaro, foxtail and herringbone. Many chain necklaces of this length are designed with several chains to create a layered look.

36-Inch Navel Length

Chain necklaces that are 36 inches or longer are designed to be worn outside of the outfit and can complement a dress with a very deep plunging neckline, or a blouse or cardigan that is layered with a tank top underneath. These necklaces can be made with larger link designs such as ropes, serpentine, foxtail, snakes and Byzantine styles to serve as the focal point of the outfit.
You can always buy necklaces by the yard (or a specific length not listed above) at our store:
February 26, 2013
As many of us sleepily crawled to the end of the Oscar awards last Sunday night, we were greeted with an award ourselves: Michele Obama's telecast appearance wearing a "wake up" glam gown and some killer vintage Harry Winston earrings.
This isn't the best shot admittedly but at least we're given a closer look at those chandelier earrings. Wow! Matched perfectly with Michele's new bangs:
February 25, 2013
Sometimes these award shows are overwhelming for jewelry lovers. There is just so much eye candy, we don't know where to begin. So we picked a few of our favorites from last night's Oscars. Tell us whose jewelry really bowled you over!
Salma Hayek looks amazing in her Alexander McQueen Academy Awards gown. But what impressed us was the way in which her "statement necklace" seems to be part of her gown, making the ensemble that much more pulled together and sleek.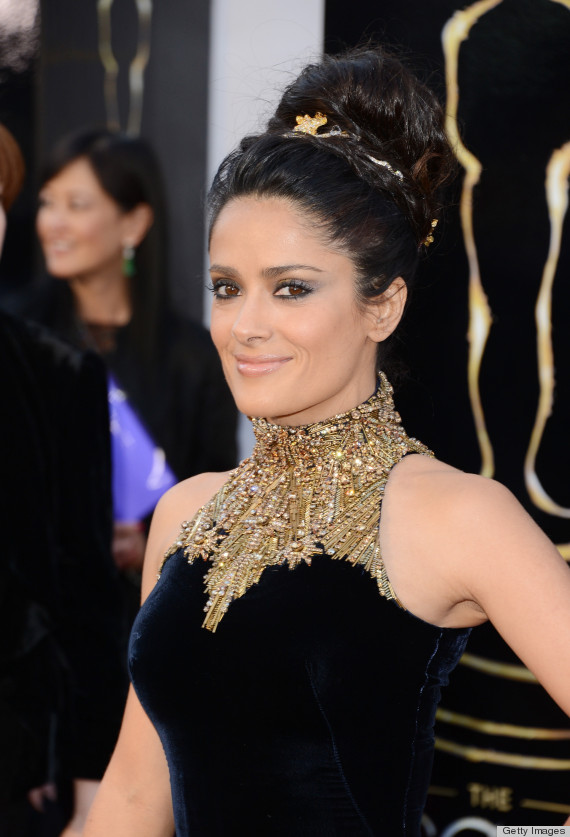 Catherine Zeta-Jones, looked drop-dead in a Zuhair Murad gown with Lorraine Schwartz jewelry. And while Schwartz jewelry can consistently be seen on the red carpet, we just couldn't help but love the gown and jewelry pairing…just perfect together.
February 22, 2013
We automatically jump to "diamond" when we think of a rare gemstone when diamonds, in fact, fairly commonly found on our planet. But this beautifully illustrated article shows you the rarest of the gems, many of which you may not have heard of.
Let's start with one of my favorite:
Alexandrite
Alexandrite is a genuinely incredible gemstone, owing to the fact that it can actually undergo dramatic shifts in color depending on what kind of light it's in. To be clear: this color change is independent of your viewing angle; a gemstone that shifts colors when you rotate it in your hand, is said to be pleochroic, and while alexandrite is strongly pleochroic, it can also change colors independently of viewing angle when viewed under an artificial light source. (In natural sunlight, the gem appears greenish blue; in soft incandescent light, the gem appears reddish purple, instead.)

A variety of Chrysoberyl, alexandrite belongs to the same family of gemstones as emerald. It's color-changing properties (and its scarcity relative to diamond) is due to an exceedingly rare combination of minerals that includes titanium, iron and chromium.
February 22, 2013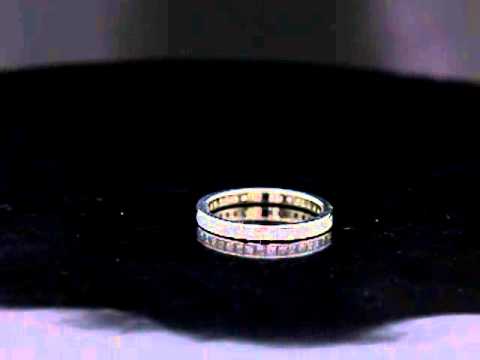 February 22, 2013
Hi Jen,
I just wanted to say thank you. We received the ring today. It is perfect. I am so impressed by the contact you maintained with me throughout the purchase. I had been nervous to make the purchase online and from another country, but the whole experience has been professional and courteous  I will certainly be looking to your store for future purchases (and recommending you to friends and family).
Thanks again
Kind regards
C K
February 21, 2013
We actually received snow in the Phoenix area yesterday, from Central Phoenix  to North Phoenix to Carefree, which is just north of Phoenix and Scottsdale. The video below is from Carefree, AZ.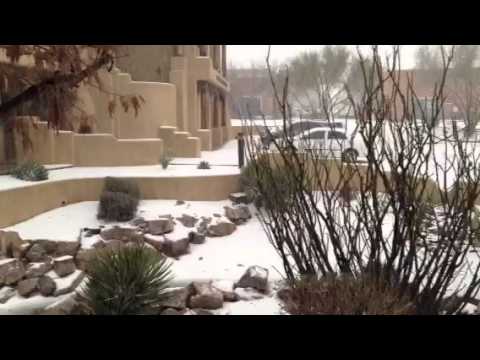 February 21, 2013
Where you store your jewelry is as important (okay, almost!) as your jewelry itself. Not only does a smart jewelry box keep your jewelry safe, it keeps it organized.
More on this work of art:
[Borgo's jewelry box is] a structured carrier that features multiple storage trays, a beveled mirror and lock-and-go key, was modeled after a train case that Borgo's mother used for travel. Decorated with custom hardware and covered in leather embossed to look like exotic skins — stingray or snake — the box comes in four colorways, including navy with gold metal embellishments (shown here). Inside, compartments accommodate sets of cuffs, smaller pendants, larger collars and necklaces. "For every piece in a modern jewelry collection," Borgo explains.
For the low, low price of $2000. Read more at The New York Times.
February 20, 2013