September 5, 2013
Dear Beth and Joe,
I wanted to "Thank you" so much for creating the perfect wedding ring. Â I appreciate all your time, your patience and your professionalism throughout the creative process.
Last week I proposed to Amy and she was in 'awe' of how beautiful the ring is and she continues to tell me on a daily how much she loves it. Â You have truly exceeded OUR expectation! Â Thanks again and I look forward to working with you on future endeavors. Â Until then… I wish you all the best!
Nicklas, Amy and Elyse.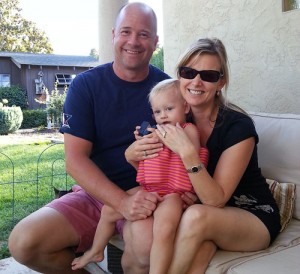 September 4, 2013
This great little video gives you very basic examples on layering necklaces the right way and wearing big earrings that match your face.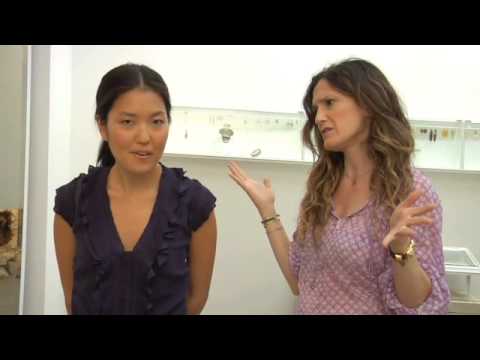 September 3, 2013
This exhibit starting September 21st is truly one of a kind, exploring one of the most enchanting jewels in history: the pearl…and at the Victoria Albert museum no less.
It will begin on September 21st.  The Victorian and Albert Museum, London's premier museum of art and design, will be opening their Pearl Exhibit. The Focus: Showcasing the history and beauty of one of the world's most beautiful and mysterious of jewels; the pearl.

Necklace with five graduated strands, Cartier, France, 1930-40, platinum, diamonds and natural Gulf pearls. Qatar Museums Authority. Photo © Sotheby's

Pearls are one of the most enchanting jewels on earth, because they are surrounded in mystery. Created deep below the surface of the sea, in a process that is only short of magical. The rarity and difficulty of locating and obtaining pearls have made it one of the most sought after of valuable objects.

The Rosebery Pearl and Diamond Tiara, London, 1878, gold, silver, diamonds, natural bouton pearls and natural drop-shaped pearls. Qatar Museums Authority. Photo © Christie's

Pearls often played an important role in the royal courts during the 18thand 19 centuries. And just like today, anything the royal family took a fancy to immediately became a social phenomenon.

Pearls and pearl necklaces from the Arabian Gulf

Reproduction of original photograph

The Arabian Gulf

20th century

© Hussain Alfardan Archives

As styles and status symbols have changed over the centuries, pearls have maintained its position as a symbol of beauty, elegance and mystery.

Cultured Pearls

This exhibit will also explore the beauty and mystery of the cultured pearl. As with many aspects of nature, man has attempted to replicate or in some way improve upon this lovely natural creation.

Sash clip 'Yaguruma' (Wheels of Arrows) and box, Mikimoto, Japan, 1937, platinum, 18 carat white gold, cultured Akoya pearls, diamonds, sapphires and emeralds. © Mikimoto Pearl Island, Japan
August 27, 2013
Some people are very attached to their birthstones, others not so much. My birthstone is a topaz and while I like the gem, I wouldn't say its my favorite (not a big fan of yellows in my gem).
But what is the rarest of birthstones? (Don't think diamonds, since they aren't particularly rare)
Think June's Alexandrite:
Think December's Tanzanite:
August 26, 2013
The Couture Press Preview took place in New York City last week, a fun, intimate event which features lesser-known jewelers. Jewelry expert and 10x writer Hannah Connorton picked a few of her favorites.
Syna debuted swan cameo earrings at the event, set in 18-karat yellow gold with black diamonds (below, $4,950). I was impressed with the introduction of ivory carvings–which designers Dharmesh and Namrata Kothari found in Indonesia–as they add another dimension to the brand's aesthetic, which is mainly smooth, round stones.

One trait I have noticed about designer Pamela Huizenga is that she's great with mixing colors, especially when it comes to neutral and warm hues. Her chrysoprase bracelet, however, set in 18-karat gold with diamonds (below, $16,800), really caught my attention. The pavé around the single cabochon chrysoprase adds a delicate, feminine touch to the piece, that's just enough and not too much.

Jacquie Aiche has a great collection that covers a range of styles, from elegant and floral to tribal and bold. Her 14-karat yellow gold agate slice prong ring with diamond pavé (below) is a great pairing of a gorgeous gemstone with edgy accents; the warm colors and gold metal is eye-catching but not scene stealing.

Sara Freedenfeld, the designer behind brand AmĂĄli, weaves her gold jewelry by hand, with some pieces taking up to 10 hours to complete. I loved her 18-karat gold Peruvian opal clasp necklace with blue diamonds (below, $6,000), especially since the clasp mechanism allows the wearer to adjust the length of the necklace.

- See more at: http://blog.nationaljeweler.com/2013/08/editors-picks-part-ii.html#sthash.Dd7jgCDe.dpuf
August 21, 2013
Ever since necklaces were invented (okay, maybe a little later), hair has been getting stuck in them. And as women know, it's painful! Here are a few tips we found on eHow that may prove useful, if a favorite necklace of yours is yanking at your hair.
Figure out where your hair keeps catching. Is there more hair around the clasp? Is the hair tightly wound around a whole two inch section? Finding out where your problem is can help you better address it.

Drip candle wax around the area of the necklace that keeps catching hair. Candle wax is very helpful on many metals, including gold and silver, and is tarnish-free. You will have to repeat this every month or so on a necklace you wear often–it's not a permanent solution.

Slide some clear canister tubing (for aquariums) on the necklace. It's unsightly, but it works. To achieve the same results without altering the look of the necklace, you can wrap the area that catches hair with clear tape several times. Make sure none of the sticky part is exposed or your hair will still catch (possibly worse than before).

Don't wear the chain at all times. Often, sleeping or swimming in a necklace can cause it to catch hair.
August 20, 2013
While we've seen some jewelry that looks like it could have been created by aliens, this ancient iron jewelry contains remnants of meteorites in them.
Read on:
Some of the earliest pieces of jewelry discovered have been found to contain samples from outer space. Archaeologists have confirmed funeral beads strung around bodies from a 5000-year-old Egyptian cemetery contained pieces of iron from meteorites that fell to Earth.

Using high-tech scanning methods, researchers from University College London (UCL) found the nine small beads, which were discovered in the Lower Egypt village of el-Gerzeh in 1911, confirm the metal came from outer space rather than terrestrial iron ores, as previously believed. The beads came from two burial sites dating back to 3200 BC and were discovered along with other exotic terrestrial minerals such as agate and gold.

UCL Archaeology Professor Thilo Rehren, lead author of a paper published in The Journal of Archaeological Science, said, "The shape of the beads was obtained by smithing and rolling, most likely involving multiple cycles of hammering, and not by the traditional stone-working techniques such as carving or drilling which were used for the other beads found in the same tomb."

Source: RedOrbit.com
August 19, 2013
A Boy Scout is always prepared. And this 12 year-old was no different when he visited Diamond State Park in Arkansas and found a 5.16 ct. brown stone within minutes. Read on.
Michael Dettlaff with his find (Photos courtesy of Crater of Diamonds State Park).

It's been a good summer for diamond finds at the Crater of Diamonds State Park.

The park has an area where visitors can search for diamonds and keep what they find. Michael Dettlaff, 12, of Apex, N.C., hit the jackpot on July 31 when he discovered a 5.16 ct. brown stone at the public park in Murfreesboro, Ark., after searching for less than 10 minutes.

The Boy Scout has since named the stone the "God's Glory Diamond." The gem is described as "honey-brown" and the size of a jelly bean, and is the 27th-largest gem ever found at the park.

In a statement, park interpreter Waymon Cox said the gem is "truly glorious" with a "beautiful metallic luster" and some "interesting notches that give it a one-of-a-kind appearance."

This find is particularly unusual since it was discovered so quickly. His father was in the midst of renting mining equipment when Dettlaff showed him the stone.

"When I brought this rock out of the bag, the guy who was there, he just went bug-eyed," the preteen told ABC News. "If it can be cut and is valuable, I'd like to sell it. And if it's not, it's just a great souvenir."

The 5.16 ct. brown found by 12-year-old Michael Dettlaff.

Source: JCK.com
August 13, 2013
It happens. Probably more frequently than our little romantic hearts want to believe. A marriage proposal starts off with the best of intentions, a ring is given on bended knee…then something goes wrong.
What are the rules for returning an engagement ring? Well, it's not as simple as you'd think:
Law trumps etiquette

Engagement rings fall under property, contract or family law, and how they are treated varies by state.

In California, it depends on who broke the engagement. For example, if the person who received the ring is the one who is reneging on the engagement, then that person must relinquish the jewelry.

In New York, North Carolina, Minnesota, Tennessee and other states, appellate courts say engagement rings are conditional gifts that must be returned to the gift giver if the condition — namely, the marriage — does not take place, regardless of who broke off the engagement.

Kansas and Montana say a gift, once given, cannot be taken back.

Oklahoma has no cases on file governing engagement rings, so guidance would have to be drawn from nearby states, says Katherine Frye, family law specialist at Atkins & Markoff in Oklahoma City. Texas, she says, takes circumstances into account.

Who gets the ring also depends on when it is given. Most courts have found that giving an engagement ring on a birthday or a holiday, such as Christmas or Valentine's Day, makes the ring a simple gift.

But many people go with what feels right. Conventional wisdom has it that a woman should return the ring if she cancels the wedding, but keep it if her fiancé makes the break. Etiquette maven Emily Post says a ring always should be returned when the engagement is broken.

"There's a really big difference between culture and the law," says Joanna Grossman, a professor at Hofstra University School of Law. "What people do is largely dictated by cultural traditions, and many aren't aware of what the law requires."

Carrie Coolidge, a writer for "Forbes" magazine, thinks family heirlooms should be returned even if law doesn't dictate it. After ending her engagement weeks before the wedding in 1991, she handed back the engagement ring, which had belonged to her ex-fiance's grandmother.

"I didn't feel like I owned it. It was given to me in honor of our wedding," she says. "No one should be selling someone else's family ring."

Source: CNN.com

This one's a keeper!

Style 102145

Four prong engagement ring with double heart ribbon design under-gallery featuring approximately .51ct total weight pave' set round natural diamonds (setting only, does not include center stone).
August 13, 2013
On a blindingly hot summer day, your first thought is cooling off in the ocean (or pool) and often, your last thought is the damaging effects of chlorine and saltwater on your precious jewelry.
This article breaks it down in no uncertain terms; take it off first! A gold ring placed in undiluted chlorine can disintegrate in minutes!
Chlorine and Gold Jewelry

One chemical that is often found in daily life is not usually thought of as harmful or destructive to something as solidly built as jewelry. Chlorine, whether it is found in chlorine bleach used for cleaning, in the swimming pool or in the hot tub can degrade gold jewelry to the point of disintegration. The actual damage to the jewelry piece is due to something commonly called stress corrosion cracking. Whether there is already stress in the joints of the jewelry or it has been repaired, these existing stress points cause a failure in the integrity of the jewelry when exposed to chlorine. A gold ring, placed in undiluted bleach, can disintegrate within minutes of exposure. The higher the karat of the gold in the jewelry, the longer it takes for the chlorine to cause stress fractures.

Read more about the effects of chlorine and saltwater on your jewelry.