September 8, 2014
I just wanted to drop you a note to tell you how gorgeous my engagement ring fix looks! Thank you so much for working with me and getting those channel stones replaced – I can't wait to wear the wedding band I bought from you guys with it! Your customer service goes above and beyond – I appreciated both the quick turnaround via email and Jen's follow up phone calls. You put my mind at ease and made me a very happy bride! I will definitely be spreading the word about Joseph Schubach Jewelers and stopping by your online store whenever I'm looking to buy something else! Thanks again!
J
September 8, 2014
As most of us know by now, comedienne Joan Rivers died last week at 81 years old. We wanted to take a moment to highlight her jewelry line and the personality behind it.
Joan Rivers, the entertainer, seemed to spend as much time on the QVC home shopping channel as she did telling jokes and critiquing celebrity fashion. For years, she ceaselessly hawked her line of jewelry, clothing and beauty products on television.

It worked. In 24 years of appearances on the channel, she managed to sell over $1 billion in merchandise, according to QVC.

Her big-sellers included the Pave Crystal Lovebirds Brooch, (shown below) for $150 and the Starlet Style 20 necklace (also shown below) for $112. Shoppers – or at least those claiming to be – inevitably left positive comment on the website about her products. For example, the necklace garnered a 4.8 out of 5 rating, including 98 five-star reviews.

Source: Fortune -http://fortune.com/2014/09/04/joan-rivers-legacy/
September 3, 2014
Clip-on earrings are experiencing a resurgence. But not just for the ears. Because of their vintage-y quality and unique craftsmanship, people are using them for other purposes, like sprucing up a hair-do or ponytail.
So blow the dust off of your grandmother's clip-ons and try them out in your hair (as shown in the following video):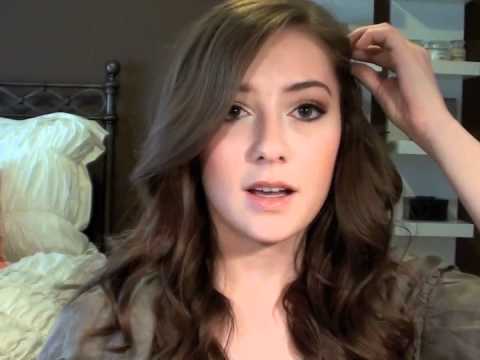 September 2, 2014
It's not a great shot but its the closest we've come to seeing Angelina Jolie's wedding ring after her secret ceremony wedding on August 23rd. But we can tell you a little about the designer and his process working together with Brad Pitt.
The newlyweds turned to luxury jewelry designer Robert Procop for their wedding bands, Procop confirmed to Us Weekly. Jolie, 39, previously worked with Procop for a 2010 jewelry collection, which benefitted her Education Partnership for Children of Conflict charity. The jeweler also spent time with Pitt, 50, to design Jolie's engagement ring.

In 2012, Pitt presented his love with a massive diamond ring, estimated at 16 carats. "Brad had a specific vision for this ring, which he realized over a yearlong collaboration," Procop told ABC of the engagement ring at the time. "He wanted every aspect of it to be perfect, so I was able to locate a diamond of the finest quality and cut it to an exact custom size and shape to suit Angelina's hand. Brad was always heavily involved, overseeing every aspect of the creative design evolution."
August 27, 2014
We all know by now that it's all right to mix jewelry colors and metals. It's more than all right–it can actually accentuate jewelry shades and add depth to your outfit. In this quick video, we learn the basics of mixing and matching. Try it today!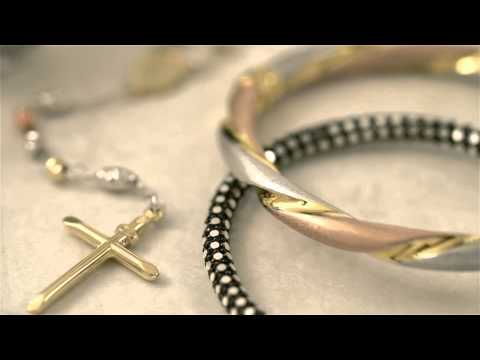 August 26, 2014
Most of us don't associate Ralph Lauren with high-end luxury items but know them more for polo shirts and the like. (Preppie casual, if you will.)
But Lauren decided to up the ante in his stores and his merchandise as you'll see in this article in the Wall Street Journal.
Stores that used to be plush, clubby havens celebrating designer Ralph Lauren's vision of stylish, casual American dressing are now transformed. Greeting shoppers as they cross the threshold at the designer's New York City men's store on Madison Avenue are $4,100 men's watches with polished stainless-steel cases, crocodile bags and lace-up dress shoes starting at around $500. Polo Ralph Lauren RL +0.11% polo shirts have been relocated upstairs.
August 25, 2014
The intricacy of lace has always been a spectacular feat of design. It's not surprising that one enterprising jeweler decided to take it one step further.
Source: 10x [http://blog.nationaljeweler.com/2014/08/a-new-take-on-lace.html?utm_source=feedburner&utm_medium=feed&utm_campaign=Feed%3A+10x+%28National+Jeweler+Network+10x%29]
August 20, 2014
No one gives more detailed and exacting fashion advice than Marilyn Hellman. Take a few moments to listen to her words of wisdom and choose your earrings accordingly.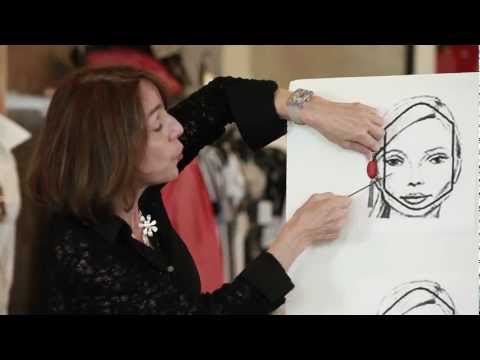 August 19, 2014
Trendhunter lead us to this strange new jewelry fad that will have you salivating in no time. That's right–meat jewelry. (Not to worry. It's not real meat. Though it looks amazingly like it!)
Wear your love for meat on your wrist or around your neck with these peculiar meat jewelry items. Onch Movement created these outlandish pieces of hyperrealistic meat and turned them into stylishly wearable ornaments.
Source: http://www.trendhunter.com/trends/meat-jewelry
August 18, 2014
This whimsical and eye-catching piece by actress Sarah Jessica Parker and designer Cindy Chao caught the attention of many A-list jewelry designers and buyers alike at the the Paris Haute Couture Week in July.
Ballerina Butterfly Brooch by Cindy Chao & Sarah Jessica Parker

Spectacular Brown Sparkle

The piece is constructed of 18-karat gold and titanium, and features a jaw-dropping 26.67-carat cushion-cut fancy brown diamond, three rough brown diamond slices totaling 47.71 carats, three conch pearl pieces weighing 7.25 carats, all surrounded by a staggering 4,698 diamonds and fancy colored diamonds weighing 98.09 carats.

According to the International Diamond Exchange, the brooch took two years to make. Rapaport reported that presale estimates indicate the brooch will sell between $750,000 and $950,000. Fittingly, all proceeds from the sale of the "Ballerina Butterfly" will benefit the New York City Ballet, an organization that Parker said is close to her heart.

Source: http://www.naturallycolored.com/blog/sarah-jessica-parkers-brown-diamond-brooch-for-sale/