June 2, 2014
Armani Exchange and Liberty United are working together with police forces, collecting guns and bullets and turning them, finally, FINALLY, into something beautiful.
May 28, 2014
Just when you think the 70′s are behind you and you can safely stash your mood rings and maxi-skirts (wait–they're back in style too!), zodiac jewelry reappears. If you'd like to keep your astrological sign close to your heart, we can create a piece especially designed for you and your sign!
Zodiac jewelry, popular in the 1970s, is making the rounds once again. This time, zodiac jewelry was made popular with the help of the Valentino Spring/Summer 2014 show in which zodiac pendants were shown double wrapped around the neck and wrists.

Luckily, you do not have to spend a lot to take advantage of this particular trend as the mythical-looking creatures of the zodiac are available from many high street retailers as well as major design houses and for a fraction of the cost.
May 27, 2014
Regardless of what you think of the creature, the jewelry renditions of this oft-feared reptilian has been rearing its head.
From the front, Naomi Watts's Bulgari necklace (left) looks like a simple silver chain encrusted with diamonds, but when she turns around, we see a head grabbing a gem-studded tail. The style has also slithered to other parts of the body: Dakota Fanning has donned a pair of wrapped bracelets and there's a serpent lurking among the many rings of Jessica Alba. (But no one has topped Sophia Bush's spooky snake ear cuff from a few weeks ago!)

Source: PeopleWatch.com
May 21, 2014
While many were gazing at the overall stunning look of actress/model Amber Heard, we couldn't keep our eyes off our earrings. (I know, we're jewelry geeks. We can't help it!)
"She matched her classy outfit with gorgeous dangling earrings and glittering rings by de Grisogono, and a white Zagliani 'Faye' clutch."
The designer's darling wore Vionnet and was escorted down the carpet by Fawaz Gruosi, the founder and creative director of de Grisogono jewelry line
May 20, 2014
Wouldn't you just love to attend the Cannes Film Festival? Something about the lush French landscape makes it seem that much more luxurious than the Oscars. But just like any award ceremony, fashion (oh and the films) are the centerpiece:
Statement earrings were a big trend on opening night, and so was chic simplicity. Kendall Jenner stunned in a black Chanel gown with modern arty black-and-white overlay bodice and Chopard diamond cluster earrings. Zoe Saldana was also a vision in a pleated white Victoria Beckham gown with gold chain detail at the waist. And Gucci girl Blake Lively wore a Bordeaux pleated silk chiffon gown from the Premiere collection, with Lorraine Schwartz climbing vine earrings.

Paz Vega took the jewelry theme in a different direction, wearing a pearl-embellished Elie Saab Couture column gown in a modern-looking shorter length (and Chopard diamond drop earrings). Nicole Kidman, who stars in the "Grace of Monaco" film that's being almost universally panned, wore an Armani Prive gown with a bustier encrusted in crystal baguettes and pearls (and Harry Winston diamond line earrings).

Source: Courant.com

Kendall Jenner in a black Chanel gown with modern arty

black-and-white overlay bodice and Chopard diamond cluster earrings.

Zoe Saldana in a pleated white Victoria Beckham gown with gold chain detail at the waist.

Blake Lively wore a Bordeaux pleated silk chiffon gown

with Lorraine Schwartz climbing vine earrings.

Nicole Kidman wore an Armani Prive gown with a bustier encrusted in crystal baguettes and pearls (and Harry Winston diamond line earrings).
May 19, 2014
Biopic Grace of Monaco took a royal beating after its screening at the Cannes Film Festival. But it's shining moments reside in the fashion/jewelry arena, so all is not lost!
According to The Daily Beast:
Even more important than her outfits, however, is the jewelry, a staple in Grace Kelly's wardrobe. Kelly was a loyal client of Cartier, and the jeweler agreed to provide the jewelry for the film. Some original pieces were loaned to the movie while others were re-created, but overall there was so much bling on set that two bodyguards had to accompany Kidman during filming.




"As a devoted client, Grace Kelly, later Princess Grace of Monaco, maintained a loyal relationship with the jeweler in Paris and Monaco. Cartier created the 10.47-carat emerald-cut diamond engagement ring, which she was given by Prince Rainier III in 1956. For her wedding she received numerous gifts of Cartier jewelry, such as a diamond and ruby tiara and a necklace composed of three strands of diamonds," the house said in a press release.

"Faithful reproductions of five of these royal jewelery pieces were produced in the ateliers of the Maison, with the consent of the Sovereign House of Monaco. The original creations are part of the royal jewels of Monaco," they added.
May 16, 2014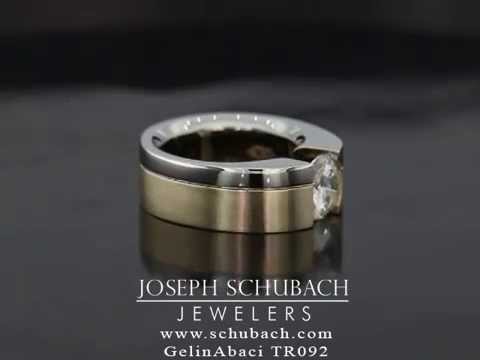 May 13, 2014
Style 9668 personalized with channel set birthstones.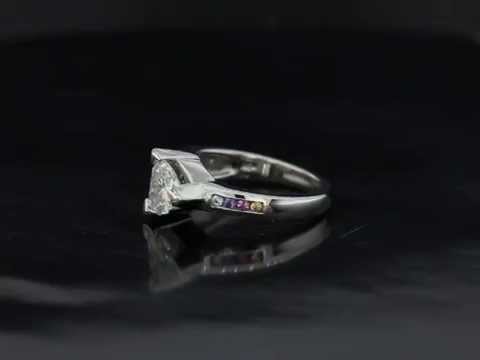 May 13, 2014
Remember the magician who seemed to be possess the ability to suspend a person in midair? Magical, right?
There's a dose of magic in tension set rings that makes people "ooh" and "ahh." But more than that, tension set rings showcase the gem of the ring, as if a spotlight were directly on it. Modernistic and sleek, tension set rings are meant for those who like a daring approach to life and fashion.
For those concerned about losing the gem, these unique settings are as safe or safer than four-prong settings. Our tension-set rings are supplied by GelinAbaci who, with more than 10,000 rings sold, report no known diamond losses. At Joseph Schubach Jewelers, we guarantee your tension setting will stay in place.
About our Supplier:
GelinAbaci is not only our single-source supplier of tension-set diamond and moissanite engagement rings, but the premier designer of tension jewelry in the United States. And with more than a combined total of 50 years in the jewelry business, Gabriel Gelin and Sam Abaci create some of the most beautiful tension-set rings available.
When you purchase tension-set rings from Joseph Schubach Jewelers, you can buy with confidence. That's because rings each ring from GelinAbaci is backed by The Schubach Guarantee.
Learn more about creating a custom tension setting, or shop our collection of ready-to-order tension-set moissanite engagement rings.
Here are a few samples from our collection:
Style 102102

Starting from $2,430.00

Style 102103

Starting from $2,365.00

Style 102104

Starting from $2,365.00

Style 102105

Starting from $2,589.00

Style 102106

Starting from $4,500.00

Style 102107

Starting from $4,050.00

Style 102108

Starting from $3,489.00

Style 102109

Starting from $3,150.00

Style 102110

Starting from $2,815.00
May 13, 2014
Many of us, especially women, are lured into believing the only way to feel good about ourselves is buying that new piece of clothing or losing X amount of weight or fixing something we perceive "broken" about our physical appearance. It's a trap many can't escape (because perfection is an illusive goal, remember!).
But it's easy to break the chains of negative self-image as long as we're willing to shift our focus a little. This article in Little Buddha by Jade Yap points out that simply focusing on the world around you (instead of the churning universe inside your head), you can get back on the path of true self-acceptance.
3. Recognize and limit external factors that spark feelings of negativity.

Know your triggers—the things that immediately leave you feeling bad about yourself. These may be certain celebrity magazines or social media websites like Facebook. Identify them and take steps to limit their role in your life.

4. Discover the root cause that makes you feel bad.

You may hate an aspect or more of your appearance, convincing yourself, "If only I had a thinner body, I would be happy/successful/fulfilled." However, more than likely, the real reason for your unhappiness lies under the surface.

For example, your fixation on getting a better body may stem from an insecurity of never being "good enough." If this is the case, you will always find an aspect of yourself to criticize, whether it's your weight or your hair color.

Identify the root cause and acknowledge how it's led you to feel this way. Then remind yourself that it is an irrational insecurity that makes you feel bad about yourself and how you look.

5. Focus outward.

While it's always important to work within oneself, it can also be helpful to turn your attention to helping others. Let's face it: there are far more important things in the world than looks.

Volunteering in your local community, for instance, is a great way to feel positive about doing something beautiful for others and increase your confidence. It can really help to put your hang-ups in perspective.

To finally be at peace with how you look is no easy feat, especially if you have suffered from low self-esteem in the past.