December 2, 2013
Of all the gifts you could give this holiday, jewelry has that special "ah" touch. And we have a wide range of jewelry on sale to choose from, regardless of your budget.
Take a look at our Sale Section and find a piece that fits!
Here's just a few items.
On Sale
Style 102794

Starting from $2,795.00

Style 102095

Starting from $5,995.00

Style 102097

Starting from $1,495.00

Style 102096

Starting from $1,995.00

Style 10520WB-CO

Starting from $868.00

Style 10580

Starting from $89.00

Style 10447WB-CO

Starting from $1,198.40

Style 10579

Starting from $79.00

Style 10582

Starting from $315.00
November 27, 2013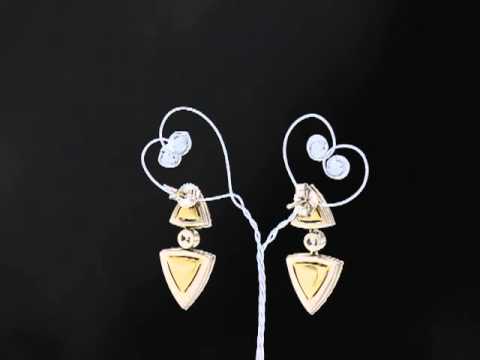 November 27, 2013
As the holidays head merrily our way, we will frequently post pieces that are a. affordable, b. stunning and c. crowdpleasers.
This necklace is no exception. Pendant necklaces continue to be one of the top favorite pieces of jewelry for women. And it stands to reason: you can wear a pretty pendant necklace with a casual or upscale outfit.
But more importantly, a pendant necklace gift feels very personal, like a touch of the giver is left on it, near the wearer's heart.
Style 10590S

Heart shape pendant in 14kt white gold featuring approximately .06ct t.w. of genuine Brazilian garnets and natural diamonds. (Pendant only, chain sold separately)
MSRP: $499.00
Our Price: $339.00
November 26, 2013
A common problem with jewelry is overdoing it. Often simplicity highlights the true beauty of a delicate piece of jewelry. In addition, length often comes into play. A beautiful necklace can become hopelessly lost in your dress if its not the right length. The great part? A few quick tips are all you need to make smart and fashionable choices. Check out the video below.
November 25, 2013
"It's going to be a conversation maker," says Lucy Luckayanko. "I will be able to tell people. It will be unique. It will be sort of my unique factor.
Eye jewelry may not be for everyone, but this isn't the first time it's been done either. The procedure has been done hundreds of times in Europe and in Los Angeles, but never before in New York City. Until now.
Lucy is getting a new procedure at Park Avenue Laser Vision to implant a small platinum heart into her eye. It's called Safesight jewelry.
"To me this is just another way to advance the science of ophthalmology," says Dr. Emil Chynn, the medical director of Park Avenue Laser Vision.
The procedure costs about $3,000. And though it may sound scary, Dr. Chynn says he believes it's actually pretty safe.
What about you? Is jewelry implanted into your eye going a bit too far or just a cool, new trend?
Note small platinum heart in the white section of her eye.
November 21, 2013
"Always dream and shoot higher than you know you can do. Don't bother just to be better than your contemporaries or predecessors. Try to be better than yourself."
William Faulkner (1897-1962);
novelist, Nobel Prize winner
November 20, 2013
Beware!
It's a heart stopper, that's for sure. Losing jewelry can stop us dead in our tracks and cause a hefty amount of grief, especially if that lost jewelry consists of your wedding ring. So think of this list as a precautionary warning.
Top 5 Ways to Lose your Jewelry

1. In the ocean (or other large body of water)

Have you heard of shrinkage? When your body gets cold, it contracts and shrinks. The most common scenario is wearing a ring into the water of the beach and losing your jewelry due to your body contracting and getting smaller in the water.

Solution: Always remove jewelry from your body before diving in.

2. Washing dishes / Cleaning & Housework

This typical scenario happens far more often than you may realize. It can simply go down the drain if your hands are slippery wet and soapy, or perhaps you forgot where you placed it when you took it off to clean.

Solution: Have a set place where you put your jewelry during cleaning times.

3. Partying too hard 

Who among us hasn't lost something when out at a club and buzzed (or worse)? If you must wear your valuables out, keep track of them at all times and have a friend keep track as well. It'd be a good idea if that friend was the designated driver.

4. Theft

Unfortunately thievery is still alive and well. If you're going to be in a sketchy or unknown area, be safe and tuck your jewelry into your handbag or pocket. Also don't flash your bling around either — in some places, it's an invitation to be robbed.

5. Simple misplacement

Most jewelry is so small, making it incredibly easy to lose. Set aside a drawer with containers or bowls to place your jewelry in or buy a jewelry holder case. Things get lost unless they have a home — put your jewelry back in its home whenever you're done with it to avoid losing it.

6. Sports / Gym / Running around

Physical activity of any kind can mean loss of your jewelry if you're not careful with it. My advice is to always take it off before engaging in any sort of sports or exercise.

Source: TraxNYC
November 19, 2013
Confess. Go ahead, you'll feel better.
You have a buncle of jewelry that you've collected over the years that sits in your jewelry box, lonely and ignored. Perhaps its missing a clasp or needs cleaning. More likely, it's gone out of style and suited your grandmother's tastes more than yours.
Redesigned jewelry is a beautiful way to take that old jewelry into the new millennium. But in order to make it happen, you have to think outside of the box, literally and figuratively.
Which piece could be easily redesigned?
What would you like it redesigned into?
We've helped customers turn an old necklace into beautiful new earrings (because the beads were beautiful but the necklace itself, not so much). Others have created entire engagement rings solely consisting of various parts of family-owned jewelry. The result? An engagement ring that contained beautiful aspects of their family's histories, with a new, creative spin.
Redesigning jewelry is a simple (and eco-friendly) way of keeping tradition alive and adding a new creative spin that is distinctly you.
So get diggin'!
November 18, 2013
Let's get it out of the way first: Aaaaaah!!! Ooooooh!!!
A 59.60-carat fancy vivid pink diamond called the "Pink Star" set a new world auction record price for any diamond, gemstone or jewel at Sotheby's Geneva Wednesday when it sold for $83.2 million.
The stone's new owner, New York diamond cutter Isaac Wolf, renamed the oval-shaped mixed-cut diamond the "Pink Dream." (We like Pink Star better.)
The sale of the Pink Dream eclipsed the previous world auction record price of $46.16 million, set in 2010 with the sale of the 24.78-carat "Graff Pink" diamond, purchased and named by diamantaire Laurence Graff. The auction of the Graff Pink also took place at Sotheby's Geneva.
"The Pink Star (Dream) is a true masterpiece of nature. Its immense importance was reflected tonight in the strength of the bidding and we are thrilled that the record price it achieved earned it a place in history," said David Bennett, chairman of Sotheby's jewelry division in Europe and the Middle East and chairman of Sotheby's Switzerland. "Today's record sale is a further testimony to the strength and depth of the diamond and jewelry market."

Source: National Jeweler
November 13, 2013
Most jewelry-loving women know intimately the importance of the length of a necklace in relation to her outfit. Too long and a necklace can fall into neckline obscurity. Too short and you have this vague sensation of being choked all evening.
Bookmark this handy visual so you can choose just the right length. Then look at our collection of necklaces here. We have necklaces in all sizes!
Click image to enlarge.