April 29, 2013
Beth,
I just picked up the box and finally got home and opened the package!!  The ring is INCREDIBLE!!!  It is PERFECT!!  I love it and it fits exactly!!!  I cannot thank you enough Рit is exactly what I was looking for and Рin fact even better!!!  Thank you soooo much!!! It is WONDERFUL!!!
I was sooo excited that it came today as I am feeling depressed about the weather!!!  It is snowing here Рand it is going to snow ALL week!!!  This is exactly what I needed to cheer me up!!!  Thank you again!! Your help is always wonderful and I so appreciate the advice!!!  Thank you again!!!  I am literally staring at it right now!!!!
R
April 29, 2013
Jen,
I just wanted to let you know that my ring arrived yesterday and it is
a perfect fit!!! Thank you so much.  I am absolutely in love with it
and your customer service has been incredible.
Thanks again,
A
April 11, 2013
Joe!
  Got the ring in today while I was out of the office.  I love it!  It's really really amazing.  i think she will cry her eyes out!  Happy of course, lol.  I showed it off to all the ladies in my dept, and they all seemed genuinely ecstatic about it.  Asking me where I got it, so I of course talked you up!  I just wanted to let you know that I did in fact receive it, and I'm more than happy.  I can't wait till the 2nd now!  That's the day she'll actually see it for the first time.
Thanks again Joe, for everything you did to make this happen!
April 10, 2013
Jen, The ring arrived today and it is just like new! It is all I can do to stop looking at it. Thank you all so much.
Sincerely, W S
(W.S. had her ring refurbished)
March 27, 2013
Tell Joe, Beth and everyone else that I am really floored Рthis is such a thing of beauty!  I so appreciate all of you at Schubach's - you are all such professionals and so friendly and responsive!
I contacted XX about this ring and beyond his first email where he informed me that he couldn't send the mount without a stone and they would need to place one of his sourced stones it in….he ignored me.¬† I followup with him asking if he would place a moissanite stone in the mount and after 3 emails following up – well he didn't answer any of them.¬† I was polite in all of my emails and spaced them apart so as not to "bug" him and still he never answered.
I am so happy that you guys made my dreams come true – thank you from the bottom of my heart.
March 22, 2013
"Joe, ¬†i am in the middle of pre algebra with the kids right now so I couldn't call……BUT LOVE THE RING!!!!!!! ¬†It is so beautiful!! ¬†it looks great on my hand! ¬†I will have to take a pic and send it to you! ¬†Anywhere I can write a review for your store? ¬†I am so happy and glad I pursued you with a follow up phone call!!! ¬†Love the earrings too! ¬†Not sure about the sapphire..I probably should have gotten it bigger, but that is ok…it is an occasional ring. ¬†I am sure without a doubt that this ring on my finger will received many compliments!! ¬†I can't wait to show it off! ¬†Maybe it will bring me good luck in Vegas!!! If I hit it big, I will let you know!
H"
An updated version of our style 7500 with diamonds going completely underneath the center stone!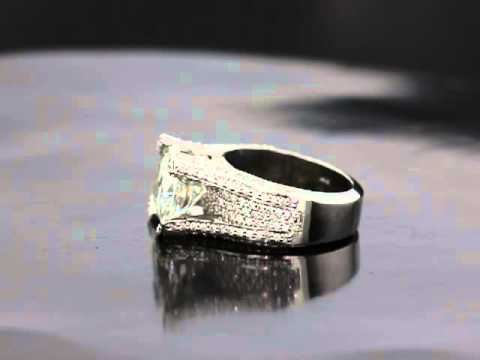 February 22, 2013
Hi Jen,
I just wanted to say thank you. We received the ring today. It is perfect. I am so impressed by the contact you maintained with me throughout the purchase. I had been nervous to make the purchase online and from another country, but the whole experience has been professional and courteous  I will certainly be looking to your store for future purchases (and recommending you to friends and family).
Thanks again
Kind regards
C K
February 8, 2013
Jen,
That would be great.  I really appreciate how helpful you have been in this whole process. It's rare to see this kind of service, and I want you to know it doesn't go unnoticed. Thank you again for all your hard work!
John M.
January 7, 2013
Dear Beth and Joe,
Thank you for your timely delivery.  I had a great time working with you guys.  Everything was perfect!  And yes she said yes!
Sincerely,
M
January 3, 2013
Beth !!!!
I can not even find the words to describe how beautiful this ring is!!! I literally can't take my eyes off of it! It's stunning! Every detail was executed with perfection. The craftsmanship is impeccable. The delicate details of the twist & millgraining are breathtaking. The stones are more brilliant then the stars in the sky. This ring encompasses every romantic love story I've ever heard. This will be an family heirloom for sure.  It is exactly what I had imagined multiplied by 10.
It can be unbelievably stressful working on something so dear to your heart over the Internet. Especially while planing a destination wedding on a very tight budget. I thank GOD that I found you guys! I will always remember this journey & your kindness when we needed it most. Beth you are incredible! Your advise, patience, understanding & expertise is second to none. You made my dreams come true like a fairy godmother.
Thank You, Thank You, Thank You for doing such an unbelievable job!
N. D.
(visit ND's project page here