Sure, you've seen gorgeous images of engagement rings before. But there's something about video that brings that image (and that ring) to dazzling life.
Here's a recent custom design solitaire with a stunning halo surrounding it. Amazing, isn't it?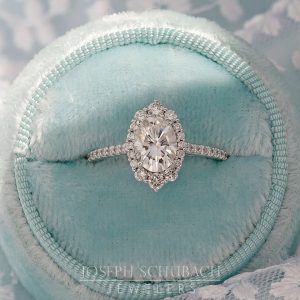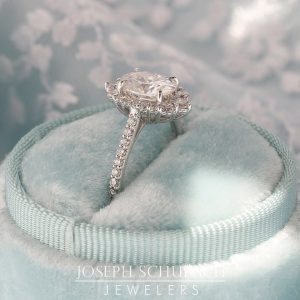 But watch this same ring dance with light and fire in the video below.
Adds a whole other element, doesn't it?
When we custom design engagement rings for our customers, we're happy to share videos throughout the process. This way, you can get as intimate of a look at your ring as humanly possible (other than seeing it in person, of course).
So remember: when you're custom designing your engagement or wedding ring, you can have a firsthand experience that will bring you that much closer to a stunning final product.
Interested in a custom design piece for yourself? We can make your dream ring a wearable reality.
Contact us to make your custom design dreams come true!
Call (888) 724-8222 or reach us at support@schubach.com. We generally respond within 24 hours (and never share your email address). Or reach us through our online form.