This wonderful piece in in The New York Times no Japonisme gives the reader a glimpse into the Japanese culture, with its delicate depiction of nature, elegance and a hint of spirituality.These pieces and more are on display at They are an exhibition at Wartski, the London jeweler that fashioned the Welsh gold ring that Prince William put on Kate Middleton's finger.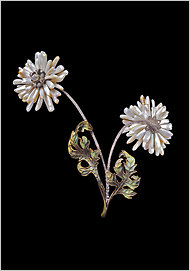 K. Faerbar
(above – A floral brooch designed by Vever of two chrysanthemums in white pearl.)
Private collection Monaco
(above – A waterscape pendant by Lucien Gaillard.)
"Japonisme: From Falize to Fabergé, The Goldsmith and Japan," is a not-for-sale exhibition in aid of The Prince's Trust and runs through May 20. This museum-worthy exhibition displays in intricate and colorful detail how much the opening up in the 19th century of a previously shuttered country influenced everything from hair combs made from humble horn to silver tea pots (their streamlined shapes suggesting 20th-century modernism before its time).

"It was the revelation of this entirely new decorative vocabulary, the cloisonné technique, the idea that you could show a fragment and capture the essence — it had such an impact because it was a different way of looking at the world," said the curator Katherine Purcell. Her detective work has brought treasures to light — not least Lalique's botanical cherry blossom, which had previously been credited to Vever.

In the same vein, Ms. Purcell discovered the "Boucheron" name in Japanese-style characters on the base of a massive silver and cloisonné enameled table center piece, depicting a young Japanese artist painting a stylized screen.