Madonna and her daughter must have hit on hard times. For a little extra income, they've decided to start their own jewelry line called appropriately the Material Girl Junior Collection – a clothing and jewelry line for 200 Macy's stores set to launch in time for school shopping this August.
We believe that 'Material Girl' will be a dynamic exclusive brand for Macy's, and we look forward to working with Madonna, Lourdes and the Iconix team. Madonna is a fashion icon who can bring a new dimension to our juniors customer," said Jeff Gennette, Macy's chief merchandising officer. "'Material Girl' will enhance the excitement of fast fashion at Macy's."No word yet on design details but the affordable prices range from $12 to $40. Will the material mom's fingerless gloves, fishnets and layered bangles make the cut? Or will Lourdes steer mom away from her 80s past? Stay tuned.

Source: Jewelry.com
Check out our Disney Precious Collection, which has many handcrafted pieces made specifically for juniors.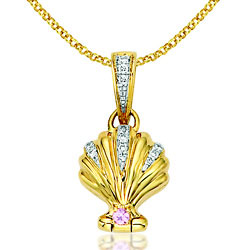 Style CH1595-
Girls Disney Ariel Shell necklace with .06ct round brilliant diamonds and .02ct natural pink sapphires on an adjustable 16″ chain, 14kt yellow gold.