It doesn't matter whether its a natural diamond or moissanite or Gemesis, a lost ring can hurt! This story will give you hope that in the world of missing rings, all things are possible!
A British woman who lost her wedding ring in her garden 33 years ago said she was shocked when a former neighbor called to say the ring had been found.

Anthea Capewell, 60, said her engagement and wedding rings flew off when she closed her garden gate in Stapleford, England, in 1976, and after a thorough search, only the engagement ring was recovered, the Daily Mail reported Tuesday.

Capewell said she and her husband, David, moved out of their home eight years after losing the ring, and she had long given up hope of ever seeing it again.

However, former neighbors Don and Carol Rigby called Capewell recently to say they had found the ring buried in some garden weeds on their side of a hedge shared by the two homes.

"I was absolutely gobsmacked and, of course, I was ecstatic," Capewell said. "I just couldn't believe it.

"It must have worked its way down into the soil after we missed it all those years ago. It came up like new with just a bit of soap water."

Capewell said the discovery has inspired her and David to renew their wedding vows next year.

Long time coming: Don Rigby points to the spot where his wife found the wedding ring that former neighbour Anthea Capewell lost in 1976
Check out this moissanite engagement ring… it's a real keeper!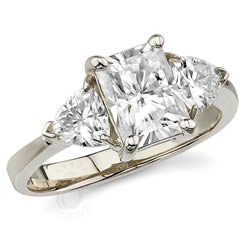 Three Stone Ring With Radiant Cut And Trillion Shape Moissanite
Three stone ring with Charles and Colvard created radiant cut and trillion shape moissanite.
Available Moissanite Total Weight: 3.0ct
Call for Platinum Pricing