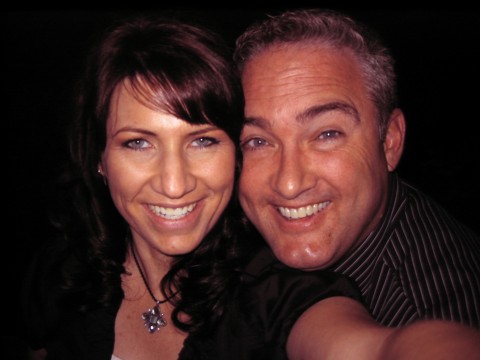 This story begins at the Phoenix Zoo.  It was the
crisp, clear autumn evening of Saturday, November 3rd, 2007.  I had gone to
a singles event that night in support of some single friends who were much more
interested in the dating scene than I was.  In mingling at the event, a
tall and oh-so-handsome guy caught my attention.  I can't say what
it was about him, and I never spoke to him that night, but my head was
definitely turned.  As the event wrapped up, I left with friends and
remember thinking that not speaking to him that night was a regret.
A couple of days later, in an amusing twist of fate, I
noticed him online and thought, "How odd!  I think that's the
Zoo guy!…Send him a note."  I did, and he replied, and we
struck a chord with each other that truly resonated.  (And for those of
you who are curious, his name is Eric though "the Zoo guy" has been
an ongoing label of love.)
We had an amazing 2008 and it's been the romance and
love of a lifetime.  We were both very cautious about marriage because we
had some unexpected heartbreaks in our marriages before, so when it came up, it
was always "…IF we get married."  I knew Eric was the
man for me, but was shocked by what came next.
Eric's birthday is November 2nd, so I had
planned on taking him out to dinner for his birthday.  We celebrated with
family on his actual birthday, so we planned the evening alone for November 3rd. 
He requested a restaurant on Mill Avenue, so we headed that way and before I
knew it we were on Galvin Parkway.  He said he wanted to walk around the
Zoo for a while, and it being his birthday celebration, who am I to
argue?  I confess seeing the main gate closed at the Zoo deterred me, but
he seemed to think that we should sneak in through the open side gate.  At
this point, I'm thinking, "Hey, I have a zoo membership! 
It's not like we didn't pay…" 


After leading me down a short path, we came across this cute
stone cottage
that is tucked away in the Zoo.
  As we approached the white
glass-paned window, it was alight with candles everywhere…the
windowsills, the perimeter of the floor, and on the shelves lining the
walls.  Then I noticed the table in the center of the room, which was set
for dinner and glowed in the bath of candlelight.  I looked in wonder at
this fairytale setting and then turned to him, and the grin on his face told me
this was for us.  He said to me, "Happy Anniversary"
(it was a year to the day since I had seen him at the Zoo event.)  There
was a gorgeous arrangement of tiger lilies and roses (my favorite) in the
middle of the table, and dinner was magically waiting.  Our favorite music
was playing in the background, and we dined in the most romantic setting
I've ever seen.  To be back at
the Zoo, where it all began, meant so much to us.
After dinner, as we took a walk around the Zoo, he asked me
to stop and close my eyes.  I did, and when he asked me to open my eyes, I
looked up to see Eric, only to find him on his knee before me, holding a
ring.




  
There was a sign that said "Will you marry me?" in
white lights between the palm trees,


 
and another white linen table with more
flowers, champagne flutes, and Martinelli's. 


 
He had the most
sincere and honest expression in his eyes when he proposed, and then he said to
me, "I promise I'll never break your heart." 
Being no fool, I said yes…multiple times to be sure it
was real. 


I'm the kind of girl who doesn't like to overlook
the moment, so I was absorbing all this and didn't truly look at the ring
until we got home.  Once I did, I couldn't believe how exquisite the
ring was.  It was as if Eric knew exactly what I'd choose for
myself:  the stones, the setting, the sizing.  Even more amazing,
Eric had sketched out what he wanted and taken it in to meet with Joe
Schubach.  This sketch became my engagement ring, thanks to the
unparalleled skill and knowledge of Joe Schubach and his wonderful team.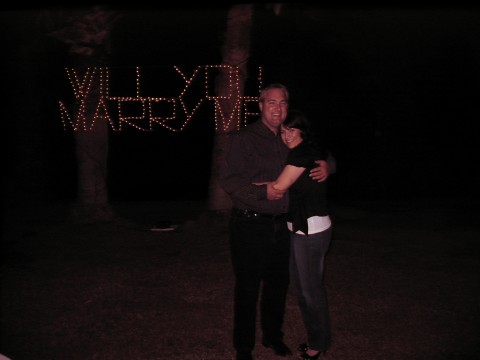 Without hesitation, we then met with Joe and his team to
find the perfect wedding ring for Eric.  Now we are simply elated to get
married and begin our grand adventure in life together! 
The best part is how excited our 4 combined children are to be forming
this new family…we couldn't be happier!