September 15, 2015
For your arm party:
Always use gold and silver.
Always use turquoise.
Find a good balance between statement earrings and "littles."
And more quick and easy layering tips.
Take a watch.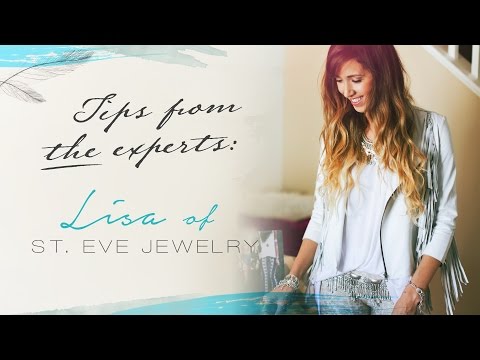 September 14, 2015
The face jewelry that launched a thousand ships…or at least a thousand Instagram accounts. And while this jewelry is more for runway purposes during Fashion Week, we couldn't help but notice its simple, compelling beauty:
According to Refinery 29:
This isn't the Kardashian kind of contouring — each model walked the runway with a custom face piece crafted by Sarah & Sebastian. Each piece tightly outlined the models' profiles. The subtle and statement-making wire added an exclusive touch to the already-gorgeous collection, complete with major fringe, loose silhouettes, and basket-woven suede.

Designer Sarah Gittoes told us that each piece was custom-molded to fit each model and held in place through tension (which means that while it's stunning, it's not quite meant to be worn in real life…unless you can get through the day without opening your mouth).
September 9, 2015
Videos like this give you a glimpse in the process of uncovering a gem. Watch this jeweler encourage a fine black opal out of a difficult piece of Lightning Ridge rough opal, with some pretty cool cutting techniques. If your into lapidary, then its a must watch.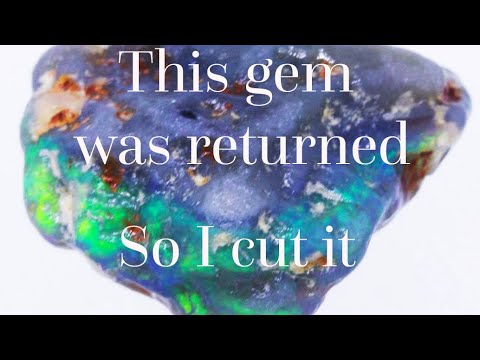 September 8, 2015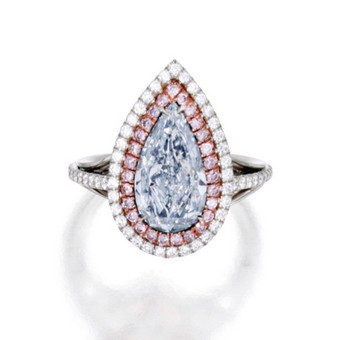 Yes, Virginia, blue diamonds really do exist. But not many. To qualify as a real blue diamond, the stone must be found in nature with this hue. (An enhanced blue diamond has been treated with heat or chemicals.)
Sotheby's recently had the honor of auctioning off this stunning 3.55 carat ring:
A truly gorgeous platinum ring. As often seen with diamonds of this caliber, platinum is used instead of white gold.

The blue pear is surrounded with round pink diamonds weighing approximately 0.25 carat that seem to be emphasizing the beautiful and pure blue color of the diamond.

The price estimation is around $500,000. If we place the setting aside, this means approximately $140,000 per carat. An impressive price tag for a fancy light blue.
September 2, 2015
Men can sport some smart and sexy accessories without compromising their sexuality, right?
This funny video shows a "good guy" trying to be a "bad boy" with helpful advice like "get rid of your toe ring." (Yes, we agree–please do!)
Hope you enjoy!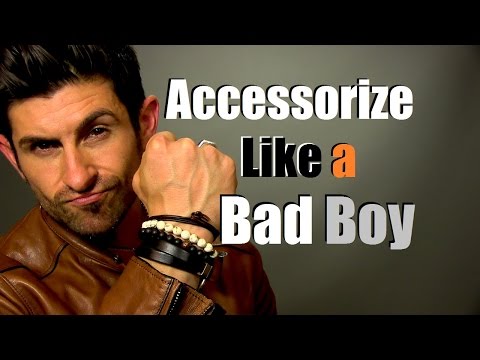 August 31, 2015
Monday is a notoriously tricky day when it comes to self-confidence. Generally we're lacking in energy and focus. We don't hit the ground running but crawl out of bed, grab some coffee and hope for the best.
Most of us dislike the daunting task of dealing with our lives again after a weekend off.
But there's still a way to feel good about yourself even if you would prefer to crawl under the covers and wait it out until Tuesday.
1. Go easy on yourself. Productivity is not at its peak on Mondays. If we allow ourselves to ease into the week instead of putting undo pressure on ourselves, we discover productivity on a more subtle level. Allow yourself more time to get to work, for instance. If you have five things on your to-do list, see if one or two can wait until Tuesday. Don't feel like you have to get it all done; simply and gently touch in on the week ahead.

2. Take some time for your spirit. Most of us roll out of bed and mindlessly begin the week. But if we take a few minutes to meditate, pray or journal, we find ourselves feeling more balanced and in-tune. Does meditation elude you? Then simply listen to a relaxing song or stare out the window, trying not to fixate on one thought. Breathe deeply and exhale out any stale energy.

3. Wear something comfortable and pretty. Most of us have a few articles of clothing that we simply enjoy wearing. Like a colorful silk scarf. Or a piece of jewelry that makes us feel safe and loved. Whatever you have in your fashion arsenal, wear it. This outside-in approach helps us ease into the week comfortably and stylishly.
So find your own pace at the beginning of the week. Don't impose too much. Think "ease into it" instead of "take care of it all."
August 26, 2015
This year's Vogue Wedding Show in Delhi got quite a lot of coverage last week in the fashion world. And rightfully so. The packed booths included high profile bridal and couture wear of India from the likes of Tarun Tahiliani, Sabyasachi, Manish Malhotra and Ritu Kumar.
On prominent display were traditional Indian hand ornaments and multi-rings.
With so much attraction on the hands lately hand ornaments like traditional hathphool at Amrapali, Birdhichand Ghanshyamdas and PC Jewellers for Forevermark, contemporary hand cuffs and palm cuffs at Anmol jewellers were a major hit amongst to brides-to-be. [Bejewled Finds]
August 24, 2015
A hearty wow to some of these high drama Fall jewelry trends found in the recent Bazaar. Its inspiring to see such risk-taking jewelry designs. If you find any pieces that tickle your Fall fancy, contact us for a custom design piece with your personality in mind.
August 19, 2015
Let us never underestimate the importance of jewelry that's easy to put on and remove. How many pieces of jewelry sit in your jewelry box, rarely used because you know what a hassle it is to wear? This YouTube video addresses a definite troublemaker: the toggle bracelet.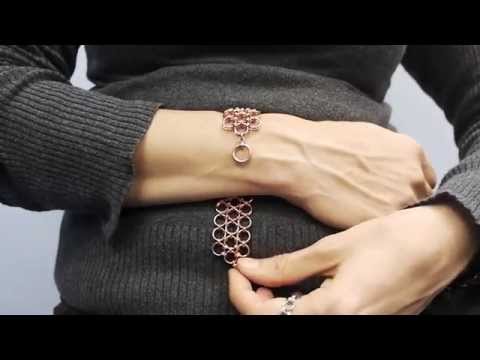 August 18, 2015
Below is a touching story sent in by one of our friends:
I recently learned that one wins more by letting go than by clinging, when a situation that had been brewing for a long time presented itself unexpectedly.
For decades, my sisters and I treasured a pair of rings my mother wore since the day she got married. We would often joke among ourselves as to who would be the "chosen one" to inherit them. As simple as they may be, they look fabulous together. One, a plain gold wedding band, and the other, symbolic of the engagement, contained a small but sparkling diamond in it.
Whether my mother was cooking, washing, swimming or gardening, her two rings always remained on her finger. Even when she went in for surgery, she had them on. For 63 years, she never took them off. And for two reasons: one, as a sign of love and fidelity to her husband, and due to the thickening of her knuckles, a toll of the passage of time. Even with soap and water, they couldn't be removed.
Last June, my mother passed away. I was alone in the bedroom beside her at that precious moment, a transition that resembled more the birth labor of a new way of life rather than anything dark or somber. This passage occurred at a residence for the elderly in a nearby city called Cuernavaca, known as The City of Eternal Spring. It's a place my mother loved for the exuberance of its flowers, birds and butterflies.
Prior to her passage, a nurse came into my mother's room. She checked my mother's vital signs, said a word or two, and then left. Surrounding us was a deep silence other than the rhythm of her strenuous breathing. I was sitting by the bed holding her hand, when suddenly something moved above her belly in spiral fashion. I waved instinctively to scare it away.
The creature flew elegantly in front of my eyes to place itself on the wall close to the headboard and quietly remained there. It was a small black butterfly, delicate and beautiful, leaving my heart pounding with amazement. It seemed to bring the message that the final moment was close. And yes, four hours later, just before dawn, mother closed her eyes to the things of this world and continued with her self-unfoldment.
When the men from the funeral home were about to arrive, the nurse asked me if I planned on taking the rings. Ah, of course, the rings. I took my mother's hand and the rings slipped quite easily into mine. They fitted perfectly well on my finger.
For two weeks, I wore my mother's rings. Then my eldest sister organized a family to divide our parent's belongings. Her plan, practical. It consisted of making a list of the things that interested us the most. If two or more wanted the same object, it would be raffled among them.
The night before that meeting I made my list. The only thing I really wanted were my mother's rings but as the sheet of paper looked so empty, I added two or three paintings. Everything seemed okay until I went to bed and took a look at the rings. All of a sudden, I experienced fear and pain that I had to part with them. Not only did I have to let my mother go but her dear rings as well?
That night, ridiculous thoughts crossed my mind, from the idea that I could offer a big quantity to be the winner of the raffle or do mental work to secure the rings. It wasn't until I calmed down that I listened to my inner voice. Its message was clear: let them go, and in doing so, I would win even more. So I did let them go at the raffle and one of my five sisters won them.
The next day, the family gathered again. After lunch, one of my sisters said, "I think Lupita must have at least one ring", and then another sister and another one said the same. My surprise was immense when my sister (the new owner of the rings) gave me one without any hesitation. I was so happy. My inner self was right (as always): I had one ring due to the generosity of all of my sisters!
But wait, there's more. At the airport, on my way back home, I received an email from my sister stating that she wanted to give me the other ring, that they should be together. She also said that they belonged to me because that's what my mother would have wanted! Now I remind myself when I cling too much to an outcome, it's only in the letting go that you receive more than you could ever imagine.