June 30, 2016
Most of the focus (excuse the pun) on photography are on the Big Day, but your engagement photos are equally important and often overlooked when it comes to detail. This sweet little video details the importance of integrating your wedding colors early (if you're not sure, go with neutral) and the fun fake art of the "pretty laugh."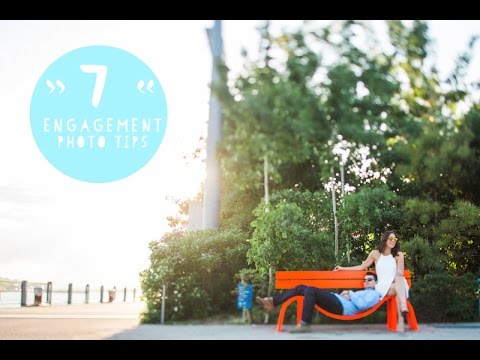 June 28, 2016
What constitutes an Art Nouveau ring?
Well let's start with what constitutes Art Nouveau first, shall we?
According to Brilliant Earth Jewelers:
As the 20th century was approaching, an imaginative and original style of jewelry-making burst forth from the vibrant European arts scene. The Art Nouveau (literally 'ÄúNew Art'ÄĚ) era, lasting from 1890 to 1910 and was actually a broad artistic movement, with one of its key tenets that art should be a part of daily life.

The mood of Art Nouveau jewelry is soft, mystical, and romantic. Pale colors and flowing, undulating curves helped to establish a soothing aura. Art Nouveau jewelers, greatly influenced by depictions of nature in Japanese art, looked to the natural world for inspiration.
Art Nouveau jewelry also took chances, breaking from traditional diamonds and incorporating less popular but distinctive gemstones like moonstone, amethyst, opal, amber, citrine, peridot and freshwater pearls.
If you're interested in a ring with an Art Nouveau touch, check out one of our latest custom design engagement rings, then let's find some "new art" for your ring!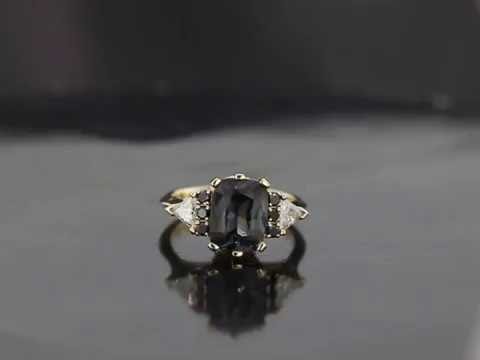 June 27, 2016
Getting engaged may be one of the most important decisions of your life. And why wouldn't it? Your life is about to change in a beautifully dramatic and most romantic way!
But…but…!
What if you don't like your engagement ring?
Well first off, you're in good company. Many women have had mixed feelings about their engagement rings. And while he may be the man of your dreams, he may be a little off when choosing your dream engagement ring. That's okay; he can't be Mr. Right 100% of the time, right?
Here are some pointers when you're less than pleased with your ring:
First off, bask in the moment. Your engagement ring matters because of what it symbolizes, not what it looks like.

Second, you have options. Most women dislike elements of their rings, not the entire ring. So before you make the next move, define exactly what is you do and don't like.

Third, understand your ring. The three major parts of a ring are the setting, the metal and the gemstone. Often, there's only one of these elements that doesn't work for you and can be changed to make the ring more closely suited to your tastes (yet still contain aspects of your fiance's initial choice).

Take for example the metal. Luckily, the metal portion of a ring can be traded out relatively easily so it pairs more nicely with the gemstone. The same hold true with the cut of the gemstone, which can be replaced with a preferable cut (or a different color of diamond or a different stone).
If the ring doesn't fit you, breathe a sigh of relief. That's an issue that can often be easily rectified by a trusted jeweler.
As the wearer, you just need to be creative and specific. A reputable jeweler is happy to make adjustments so you're pleased with the end result.
Just like your marriage, often a ring is a work-in-progress!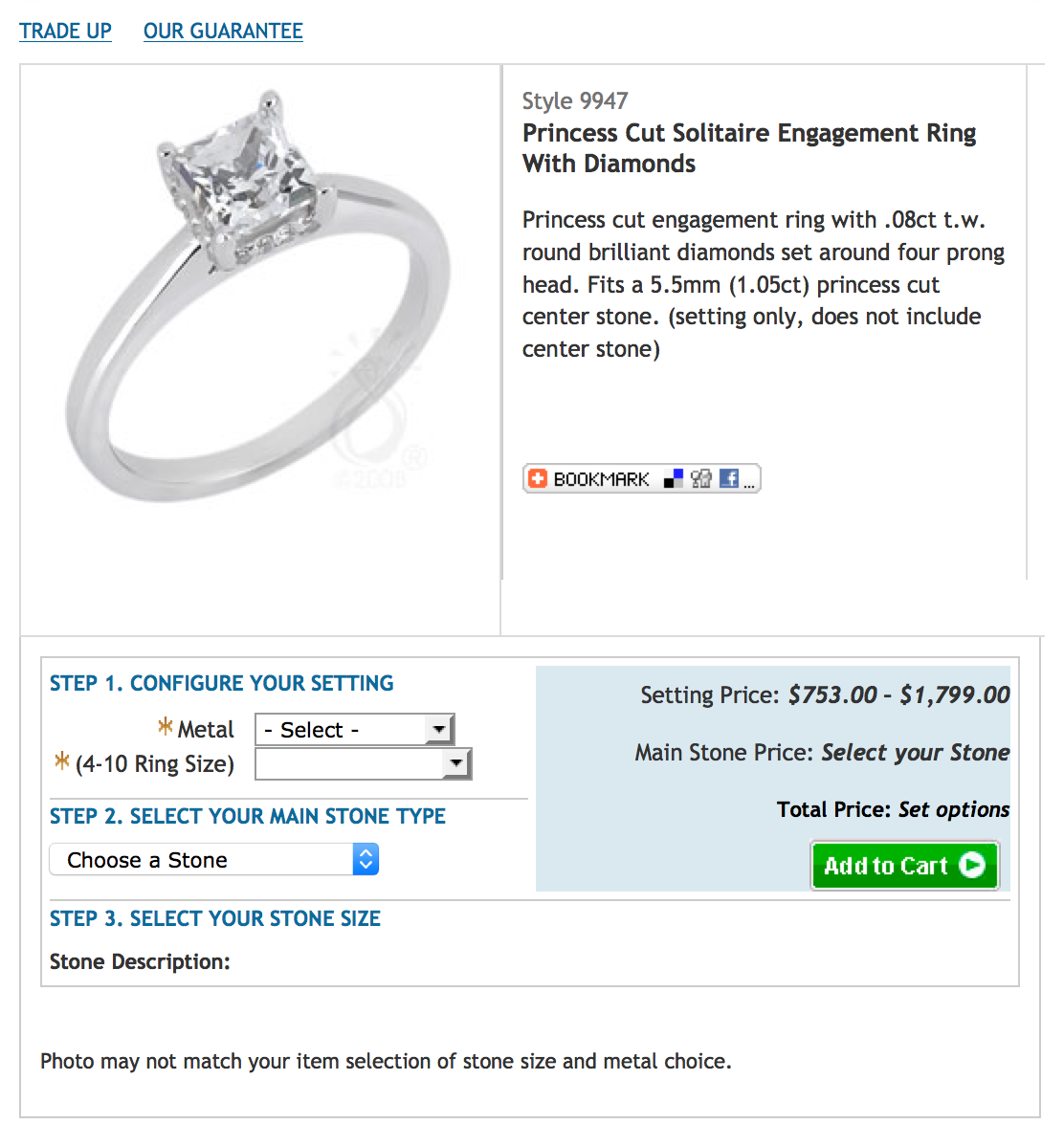 Save
June 23, 2016
It's no surprise to us. Diamond alternatives are the way of the future. Never before could you purchase such a high-quality gem that possesses (and sometimes exceeds) the attributes of a traditional mined diamond, and for a fraction of the price. For millennials who are conscientious of the world around them, diamond alternatives (like moissanite) provide a sound, eco-friendly alternative.
"Millennial consumers have distinctive preferences, which in many ways diverge from previous generations," Bank of America Merrill Lynch analyst Ashley Wallace said in a research note this month. "They tend to be more value conscious, more concerned with sustainability and ethical production, and often value unique and individual products versus items that are standardized and mass-produced."
Millennials also break the mold when it comes to fancy colored gems. They don't adhere to the mindset that only a diamond represents true love. Instead, they embrace a stone that is significant to them.
"Millennials don't want what all their friends have and don't want what they've been told to have," said Amanda Gizzi, a spokeswoman for Jewelers of America, a trade association with more than 8,000 member jewelers.

Below, one of exclusive designs using moissanite.
Save
Save
Save
Save
June 21, 2016
Joan Rivers did more than just wear jewelry; she celebrated it. She viewed it as art (rightfully so, in our opinion) and now, since her passing, her belongings are up for auction, along with an extensive collection of designer gowns, home furnishings and other personal belongings.
The comedienne's private collection will be auctioned at Christie's in New York City on June 22nd. Nearly 300 lots are for sale, ranging from a Tiffany dog bowl, to the desk and chair where she may have written her jokes, to an Edouard Vuillard painting that may fetch more than $120,000.
'ÄúThere'Äôs really just incredible depth to her collections,'ÄĚ Gemma Sudlow, Christie'Äôs specialist head of Private & Iconic Collections, told ABC News. "There'Äôs glitz. There'Äôs glam. There'Äôs that Hollywood feel to it, that show business feel to everything."
The collection is on view and is free and open to the public at Christie's through June 21. Items range in price from $400 to well over $100,000.
June 20, 2016
WOW! I can't stop looking at it. It's perfect and looks just like my original engagement ring. Thank you so much for doing such a great job!
M.B.
June 20, 2016
Maybe you wore the same school ring as your graduating class in college or high school. Or you and a friend or lover wore a ring that symbolize how two halves make a whole (like wearing a half heart, for instance.) But collective ring wearing is still a rarity.
Unless you're from Latvia. Then the same ring is ubiquitous to its entire small population. A whole country wears the same kind of ring…now that's some serious solidarity.
The ring that mostly all Latvians wear?
The Nameja Gredzens
The Nameja gredzens or Ring of Namejs [NAH-mays] consists of:
Three separate bands of silver twisted around each other and forming a braid
A thread-like chain wrapping them together, making them one
Four separate elements that come together in a single shape
And while the overall design is the same, no two rings are exactly alike. Each one is handcrafted.
The Nameja Gredzens are old!
This style of ring has been excavated from sites along the Daugava River dating back to the thirteenth century. These rings were simple yet contained the same components as ones designed today. Each ring is still forged by hand, braiding three bands of silver (traditional) or gold and then wrapping them with a chain.
The
Nameja Gredzens
are worn with pride!
The Nameja gredzens are give to a man as rite-of-passage (from boyhood to manhood, for example). Women also wear the braid of Namejs in the shape of rings, necklaces, bracelets or brooches.
The Nameja Gredzens are symbolic.
The three bands on this style ring represent Vidzeme, Kurzeme, and Latgale, the three ancient tribal regions of present-day Latvia.
If you'd like one of the powerful and symbolic rings (you don't have to be from Latvia!), let us custom design your very own Nameja gredzens
June 17, 2016
I haven't received my ring yet but am in love with what I see in its photos and my experience with Joe. Communication, price, and expediency were unrivaled. He is exceptionally kind, enthusiastic, and has achieved the balance between his own expertise and the client's dream. Never once did I feel condescended to or that he was trying to alter my vision. He replied to each message promptly and consulted me at each step so that the project was one-hundred percent custom. I recommend Joe and his team to anyone and everyone, always. Thank you for making a dream come true!
M.H.
June 17, 2016
I cried a little… haha! Just a few tears, though! ;-) It's so much better than I imagined it would be. I'm absolutely blown away. You made an exceptional and fabulous ring. Thank you infinitely for creating this for us!!

M.H.
June 16, 2016
We love Pinterest! Where else could you find such amazing images of jewelry? But more than just stunning pictures, Pinterest offers us great tips to take care of jewelry or advice on how to wear jewelry more effectively. Here are a few of our favorite pointers.
Save