July 28, 2016
10.5mm, 11mm, and 11.5mm round brilliant cut Forever One moissanite
July 28, 2016
Any article that contains "red diamond" catches our eye. Not only is it a stunning gem to behold but its very rare. (According to reports, red diamonds will become even more rare and and their price is expected to double in the next couple of years.)
Known as The Kimberley Treasure and for sale at AU$1 million, the breath-taking collectable has been crafted from one kilogram of 99.99% fine gold, and features a radiant cut 0.54 carat red diamond unearthed from Rio Tinto's Argyle Diamond Mine in the east Kimberley region of Western Australia.

Unveiled by the Premier of Western Australia, the Honourable Colin Barnett MLA, The Kimberley Treasure is issued as legal tender under the Australian Currency Act 1965.

Simon Trott, managing director of Rio Tinto'Äôs diamonds business said 'ÄúWe are delighted to collaborate with The Perth Mint on the exclusive release of this distinctive investment piece. It is a beautiful symbol of the unique treasures of Western Australia and sets a new benchmark in limited edition craftsmanship.'ÄĚ

The Argyle Diamond Mine produces a very small proportion of rare pink diamonds and an even smaller proportion of rare red diamonds. On average one carat of rare red diamonds a year is produced from the Argyle mine.
Save
July 26, 2016
We poured over this latest article in InStyle magazine, which details model Georgia May Jagger (daughter of Mick Jagger and Jerry Hall) jewelry preferences. Why? Because you know a celebrity like this has access to amazing jewelry and is on top of all the cutting edge trends. (Plus she also proudly admits she "nicks" jewelry from her mother!)
So what does the girl who could wear anything wear?
'ÄúI have a lot of her [mother's] costume jewelry from when she was modeling, like stuff from Chanel,'ÄĚ she told InStyle. 'ÄúIt was funny because I asked her the other day, 'ÄėWhen you first worked for Chanel, who was the designer there?'Äô She was like, 'ÄėCoco Chanel.'Äô I was like, 'ÄėOh my god, really?'Äô It'Äôs quite amazing.'ÄĚ
And what other essentials should every girl own?
'ÄúI think a great pair of earrings like hoops or studs, and a cocktail ring, which is always nice for an evening,'ÄĚ she said.
Save
July 25, 2016
The lines and designs of jewelry extend far beyond what we wear on our bodies. Look at one of your favorite pieces of jewelry. Take a moment to note if you see that design or style elsewhere in your life, like in your home or office. Most likely, you have.
And that's the beauty of jewelry design: it reflects artistry seen all around us.
Take the teaming of Rem Koolhaas who spearhead the redesign of Gaia Repossi'Äôs flagship store on Place Vend√īme in Paris. The jewelry reflects the design itself.
According to W Magazine, Repossi explained, 'Äúthe new Lateral high end emerald cut diamond earrings that twist along their structure, which is a little like the billboard (the flipping panel window) on the ground floor. I had that idea for a long time, and that took a lot of time to develop.'ÄĚ
July 21, 2016
Our studio staff keep up on fashion advice videos on YouTube. Some are amazingly helpful, some could stand some serious editing…some even contain bad jewelry wearing advice!
But there are definitely gems out there.
While the music is a bit grating (suggestion: turn the audio off,), we think an all visual video relays pointers more quickly and effectively…don't you agree?
July 20, 2016
Monday night we had some of our fabulous summer monsoon weather here in the Phoenix area. Check the video and the article below for some great pics. I was on top of Camelback Mountain that evening and watched the storms rolling through the Valley. It was incredible!
https://www.washingtonpost.com/news/capital-weather-gang/wp/2016/07/19/watch-this-incredible-microburst-come-crashing-down-over-phoenix/
July 19, 2016
Unless you've been living under a rock, you've heard of the massive Pokemon app trend sweeping the notion. Everyone you know is either playing it (or complaining about it!). The votes are split in our studio but we couldn't help but notice the cuteness of the jewelry that's spawned from this Internet craze.
U-Treasure by K.uno, a Japanese company, has introduced a line of Pok√©mon jewelry, proving it has its¬†finger on the cultural pulse'ÄĒand impeccable¬†timing.

The new line, called Pocket Monsters, contains seven pieces and is advertised as a bridal collection. The items are available in platinum, silver, gold, and are fully customizable with mix-and-match metals and even gemstones.

Silver and 18-karat yellow gold Pikachu ring, which retails for 99,000 yen (US$984.29).

Electric Pokémon features on a diamond and platinum engagement ring for 120,000 yen.

Source: Rocket News
July 19, 2016
Here's another look at the latest new line we carry: Lashbrook's platinum band with 'Ä™Ellysium'Ĩ inlay and eternity-set diamonds on the sides.
The best part? Each Elysium band contains thousands of diamonds crystals pressed into one solid diamond ring. Amazing!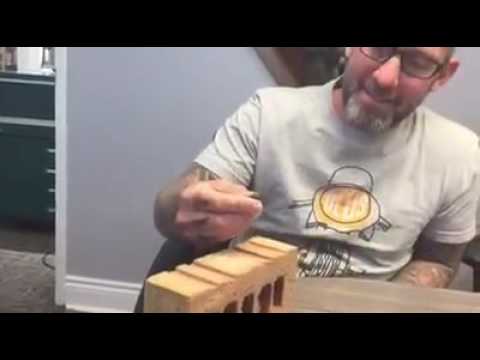 Thanks to Jeff Walters Jewellers in Ontario for this video!
July 18, 2016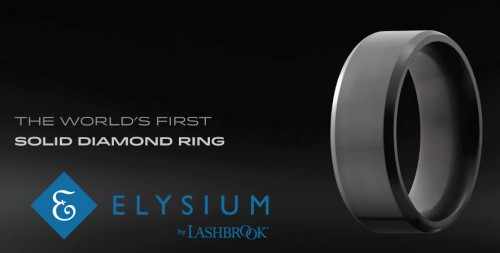 ABOUT ELYSIUM
The Dark Side of Luxury
Proprietary technology now creates a multi-crystal black diamond matrix that resists scratching, lasts forever and maintains an artisan sheen that never fades.
Step into the darkness of infinite perfection.
There is nothing else like Elysium BLACK Diamond in the world. It is more enduring than titanium, harder than tungsten and its timeless luster and beauty will outlast silver, gold and platinum. Elysium offers the first successful diamond jewelry rendered in black. It will quite simply outlast and outperform every other substance in its class. Traditional materials scratch and mar easily and struggle to hold up in any working environment – even in the mildest of conditions.
Diamond in Black is forever!
As hard as diamond because it is diamond.
The BLACK collection is the result of decades of science, technology and art – driven to perfection by a relentless quest for the ultimate black diamond. Timeless and dark as the depths of the earth that forge diamond, Elysium BLACK jewelry brings drama and desire together.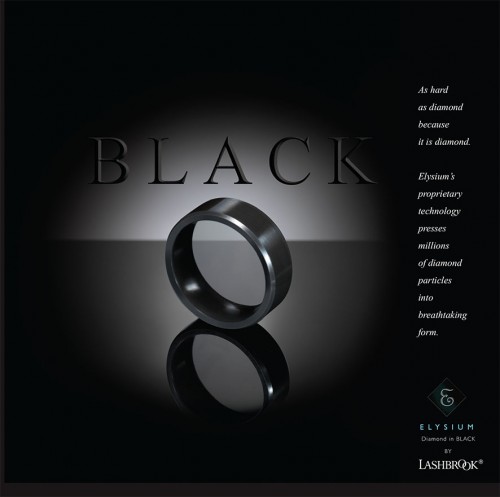 Save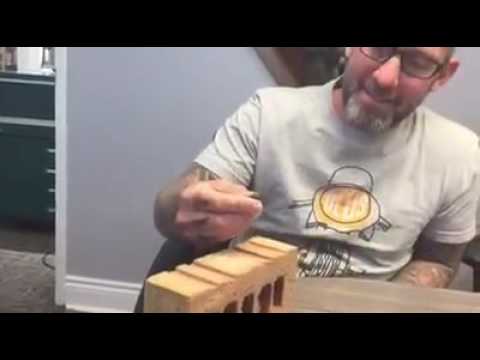 Thanks to Jeff Walters Jewellers in Ontario for this video!
July 15, 2016
Jen I received the ring, It looks amazing!!!
I want to thank you a whole bunch for helping to put this together. I can't believe the ring came out this pretty, with my specifications and on time. THANKS!!
KP