February 17, 2015
We have had a busy month, mediawise. First, Joe appeared on CBS5's The Morning Show. Then days later, Joe appeared on The List. In both, he describes the eco-friendly and budget-friendly lab-grown diamonds, perfect alternatives for couples on a tight budget who don't want to scrimp on quality.
Joe, don't let the fame go to your head!
February 16, 2015
We're so happy to be working with Pure Grown Diamonds. We believe in their eco-friendly product and we love their team. Over the weekend, a customer asked how exactly a diamond is grown from a seed.
Here's what Pure Diamond has to say:
Pure Grown Diamond technology replicates the conditions necessary to grow a diamond crystal above the Earth's surface. Grown diamonds are produced by utilizing two gem-quality diamond creation processes: High Pressure-High Temperature (HPHT) and Chemical Vapor Deposition (CVD).

In both instances a small diamond seed is placed in a tightly-controlled environment where the rough diamond grows, atom-by-atom, layer-by-layer, recreating the natural process.
February 13, 2015
February 12, 2015
February 11, 2015
According to the satirical newspaper, The Onion, Zales may have jumped the gun a little when they unveiled (several) engagement rings for those marrying more than one partner. Too funny.
NEW YORK'ÄĒSaying the company had skipped a good five or six steps on society'Äôs path to wider acceptance of nontraditional relationships, marketing experts told reporters Wednesday that jewelry retailer Zales had definitely jumped the gun with its new engagement ring commercial featuring a polyamorous triad.

'ÄúZales is definitely getting a bit ahead of itself with its new 'ÄėAbundant Love'Äô ad'ÄĒtoday'Äôs consumers just aren'Äôt ready to see a jewelry commercial like this,'ÄĚ said Venture Marketing brand consultant Caitlin Boyd regarding the new campaign, which depicts a man simultaneously proposing to his male and female co-primaries while presenting three identical gold engagement bands. 'ÄúThis could maybe fly in 15, 20 years, but TV viewers are going to need to see a number of other alternative relationships in engagement ring ads first: a non-monogamous heterosexual dyad, trans partners, at least a few biracial lesbian couples. As it stands, this one'Äôs certainly putting the cart before the horse.'ÄĚ

When reached for comment, a Zales representative stated that the rings, which are available in sets of three or more, can also be customized for polyamorous unions involving secondary, tertiary, or pivot partners.
February 10, 2015
If you're a thrift store shopper or an estate sale shopper, undoubtedly you've probably come across boxes or bags of jewelry, usually at a reasonable price. But what makes a vintage piece of jewelry worthy of taking home? What pieces might really be worth something? This woman is an expert on vintage jewelry and offers up a few tips: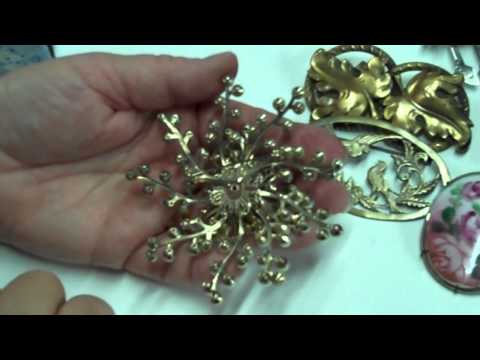 February 9, 2015
No, I didn't catch it. But catching up on it this morning. Kanye West interrupts another acceptance speech (as a joke apparently, ha, ha), Hozier and Annie Lennox teamed up for an interesting musical duet…and the fashion? Well here's a few of our faves.
And our personal favorite look from last night's Grammy's:
February 6, 2015
See this item here:
February 4, 2015
Brooches…not just your mother's jewelry anymore. Check out some of these whimsical and eye-catching brooches we found at Vogue:
February 3, 2015
Less is more. We've all heard it but rarely believe it. So we often overbuy and fill our closets and drawers to the brim. Then we moan, "But I have nothing to wear!"
This article points out that we often bury our best pieces with articles of clothing and jewelry that don't mean as much to us, leaving us still feeling incomplete. So get de-stuffacting and uncover your favorite things!
Tip 1: Give up the guilt (if you have any)
It is not your fault and there is nothing wrong with you for buying so many things. From the earliest age, we are taught to be consumers – to look, buy, gather, hoard. Also, we get a very addictive chemical thrill every time we buy something – you know the feeling – even if the high doesn't last.
Don't worry though; handled right, you'll get a similar feel-good feeling once you've lightened your wardrobe.

Tip 2: De-stuffocate with friends
Overturning millennia of training in gathering is hard. Just as we are hard-wired, as evolutionary psychologists believe, to love sweet, salty, fatty foods, so are we hard-wired to want and value material things. If you do it with a friend or friends it'll make it so much easier. You know how it's much easier to tell a girlfriend that something looks good or bad on them, than it is to know if something looks good or bad on you? Well, it's the same with things in the wardrobe. Throughout, compare and compete: if your friend has got rid of 30 things, see if you can get rid of 31.

Tip 3: Minimalism in a minute: the bin-bag experiment
This is the extreme version for brave (or desperate) people seeking instant change. Ideally with a friend, put everything – yes, everything – in black bin bags so your wardrobes are bare. Then, each day, as you need something, take it back out again. This way, you'll find out what you actually need.

Tip 4: Minimalism in a month
If that feels too much or too weird, start small. Find one thing you really don't want, need, have never worn, and get rid of it. The next day, find two things. The next, three things, and so on, for a month. (It's best to start this on the first of the month, so the number of things you throw out is the same as the day on the calendar.) This game was created by The Minimalists, Ryan Nicodemus and Joshua Fields Milburn. They call it the Minimalism Game.

Tip 5: You don't need to be, or want to be, a minimalist to benefit
You can also de-stuffocate by going through your wardrobe, taking things out, and making piles:

(i) Things you've never worn – you can tell because the label's still on, and they're still shop pressed
(ii) Things you haven't worn for a year
(iii) Things that are uncomfortable
(iv) Things you have worn but you've grown out of
(v) Things you hope to wear again some day

If you're taking your time, put them in separate bags, and put them in the loft. If you haven't missed them in a month – or three months time – they have to go (or else, what's the point in keeping them?).