May 4, 2015
Hi Joe,
I have picked up the rings yesterday, they are absolutely beautiful. Thank you so much for such an amazing work. I really love the stone too, and the way the entire set looks on my finger. I already got compliments on it from a total stranger.
I am very satisfied with them. The only downside is that I get a bit distracted wearing them, so I take them off while I drive. Haha! The funny thing is that others are also distracted by it. Yesterday night we were at Grand Ole Opry for a fantastic concert, and the lady on my left kept on staring, I guess she liked it too!
Thank you so much again, I really love how it turned out.
Talk to you (hope soon) for my next ring. :D
Have a great day.
A
May 4, 2015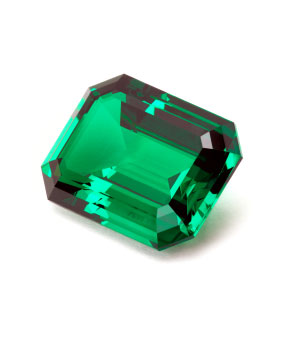 What is it about an emerald that is so positively fetching and magical, as if snatched right out of a fairytale? Well, apparently it's got a long history of power and wonder, as you'll read below.
If you're looking for a custom designed piece using your birthstone (or you simply love emeralds), we're happy to create something that marks your green gem love in the most special of ways.
The emerald belongs to the beryl family of minerals that include aquamarine (one of March's birthstones), heliodor, and morganite. Beryl, or beryllium aluminum silicate in chemical jargon, is a six-sided symmetrical crystal. Beryl contains beryllium, aluminum, silicon, and oxygen.

Emeralds vary in color from light to deep green. It's commonly thought that an emerald's color derives from the presence of chromium and/or vanadium replacing some of the aluminum in the mineral's structure. The stone can, however, lose its color when heated strongly.

There are many myths associated with the emerald. The stone was once believed to prevent epilepsy, stop bleeding, cure dysentery and fever, and protect the wearer from panic. Its magnificent green color was said to rest and relieve the eye. To the ancient Romans, emeralds were dedicated to the goddess Venus because the green emerald symbolized the reproductive forces of nature. Early Christians saw it as a symbol of the resurrection of Christ. In the Middle Ages, emeralds were believed to hold the power to foretell the future.

Source: EarthSky
May 2, 2015
Joseph Schubach Jewelers' donation to the Southwest Center for HIV/AIDS Night For Life Gala. Reverse set rubies in 14kt yellow gold with a diamond accent.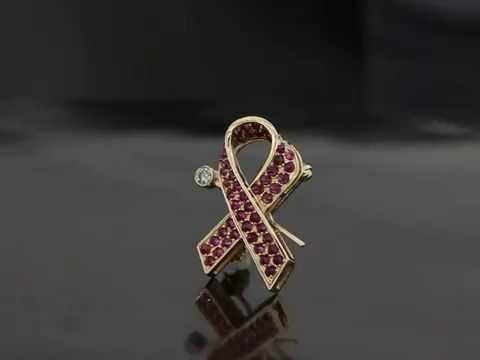 April 29, 2015
It's time for your Spring unveiling. The heavy coats and sweaters are put aside and out comes more skin-exposing fashionwear. Men, take note of these sage points found in this month's GQ. And remember, no arm parties!
Do: Mix & Match

You've got a fancy, shiny new silver watch? Throw on a colorful, low-end bracelet like these from Burkman Bros. to keep the vibes beach-ready. Rocking a punchy neon hiking cord number? Pair with a worn-in metal cuff. Wearing a WWII-inspired military watch? Tone down the commando-ness with an eye-popping leather bracelet from Caputo & Co. Still sporting a Livestrong bracelet? Actually, let's add that one to the don'ts.

Don't: Make it an "Arm Party"

While mixing high and low-end always for some killer contrast, there's a very serious law of diminishing returns in play on your wrist. There's a point at which too much jewelry goes from "fun" to "attention-grabby" and our research shows that this line is three things per arm or five total. Plus, when you look like you robbed a summer camp's lanyard stash, no one piece gets the (literal) shine it may very well deserve.

Do: Consider the Signet (Pinky) Ring

Before you hit the eject button on this whole idea, hear us out: The pinky ring isn't for everyone. But if you wear it with a bunch of other masculine, Americana gear like beat-up jeans, denim shirts, and Chelsea boots, you'll come off like a guy comfortable in his own skin, not like someone who's auditioning for the Broadway revival of Guys & Dolls. If you need some help finding one, see our recent round-up here.

Don't: Get Experimental With Piercings

We love Shia Labeouf's blue collar style for lots of reasons, but one thing we can't get behind is his recent eyebrow ring. If you must pierce, keep it to the ears (specifically, the lobes) and avoid the temptation to channel early-2000s-era R.Kelly's iced-out studs. Something smaller, more rugged, and less diamond-encrusted is always preferred.
April 28, 2015
Short films or artistically-leaning extended commercials have become increasingly popular in the world of marketing jewelry. It's a new way of reaching audiences and showcasing jewelry as part of a larger creative vision.
BLOWING IN THE WIND: Dior is marking the launch of its new fine jewelry line Rose des Vents with four animated short films based Victoire de Castellane's fanciful drawings detailing her imaginary encounters with the house's founder, Christian Dior.

Each mini movie is based on a cardinal point corresponding to one of the four types of stones used in the jewels: north for mother-of-pearl; east for pink opal; south for turquoise, and west for lapis lazuli.

The latter film, for instance, shows de Castellane and Dior preparing for a party at the Dior headquarters on Avenue Montaigne in Paris when lapis lazuli medallions start to twirl around the room like light bouncing off a glitter ball.

Source: WWD
April 27, 2015
An event that started 101 years ago has grown in popularity…and glitz.
Check out some of these standouts:
Chanel Iman wore Harry Kotlar diamond earrings and Harry Kotlar bracelet.
Source: Forbes
April 22, 2015
Put your sunglasses on for this dazzler or you might go blind from the beauty!
Courtesy Borsheims

Borsheims is celebrating its parent company's 50th anniversary with a 50 ct. fancy yellow diamond.

The ring features a 50.02 ct. natural fancy yellow cushion-cut diamond from Rahaminov Diamonds. The retail price for the ring is $2.3 million, but Berkshire Hathaway shareholders can get the ring for $1,725,000.

Berkshire Hathaway was actually founded in 1839 as a textile company in Rhode Island, but Buffett Partnership Ltd., owned by Warren Buffett, bought and took control of the company in 1965. It is that anniversary that Borsheims is celebrating with the diamond.

Source: JCK
April 21, 2015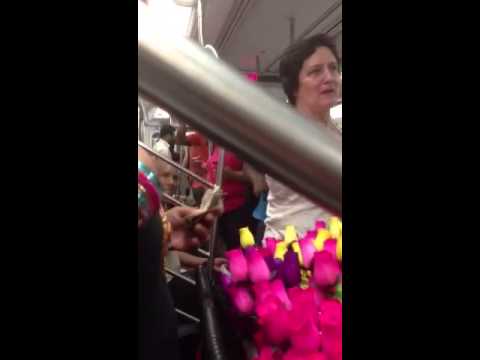 This heartwarming video reminds us of the power of a generous gesture. Today may we all attempt to lift the weight off of anther's shoulders and add beauty to the world whenever we can.
After nearly two years, a heartwarming video that shows a woman selling flowers in the New York City subway for $1 each is finally getting the attention it deserves.

A man inquiring about the roses figures out that the woman has 140 flowers. "So I'll give you $140," the man says, adding: "But you gotta do me a favor, you have to give them out."

"Don't sell any of them, give them all away," the unknown man says. The woman starts to cry, but the man insists, "Today is a happy day."

After the woman promises to give the flowers away and the two briefly shake hands, the man walks away. The woman can barely contain her tears.

"Free roses! Help me out, guys," the woman says as fellow commuters laugh.

The video was originally posted to a YouTube account in 2013, but it started receiving attention after it was posted to Reddit.

Source: Mashable
April 20, 2015
A show-stopping men's ring – bold and decidedly masculine. Designers Shy and David Dayan's work has been getting some serious notice. And for good reason.
4. Shy Creation's Manno Line

Designer Shy Dayan aimed to create a ring that his brother and business partner, co-owner David Dayan, would wear. The result: a 14k yellow gold ring with colorless and champagne diamonds in a squared-off, European-shank style with a gallery and black rhodium behind the brown stones "to make them pop," says David, the 22-year-old firm's toughest critic. The piece, the colors of which accented his Daytona Rolex watch, received so many compliments that the siblings turned the design into the Manno line.
Starting retail price: $1,260 in 14k gold
Accounts: 40 of the firm's 300 doors carry Manno
Trade fairs: Smart Show, JCK Las Vegas, JCK Tucson, JA New York, Jewelers International Showcase Miami Beach
Minimum buy-in: $10,000
Contact: 213-623-8900; shycreation.com

 

Source: JCK
April 15, 2015
Chanel has traditional kept its distance from e-commerce, until recently. In pop-up style, Net-a-Porter.com will display a small but significant collection of Chanel's jewelry wear for a three week period.
"The six-piece Coco Crush collection will be available on the site from April 15 until May 6. It then will be available only in Chanel stores. The collection, in 18k white and yellow gold, consists of five rings and one cuff, each in Chanel's iconic quilted pattern. The pieces retail for $2,049 to $19,762.

"We are thrilled that Chanel has decided to work with Net-a-Porter on this exclusive initiative," said Alison Loehnis, president of Net-A-Porter. "Chanel is a brand that we admire greatly and we are incredibly honored and proud to partner with them on their first ever fine jewelry eCommerce project. This fabulous collection completely embodies the unequivocal chic Chanel spirit – classic, modern and timeless – that is sure to resonate with the Net-a-Porter customer."

In a post announcing the collection on her Instagram, Natalie Massanet, executive chairman of the Net-A-Porter group, wrote, "Have waited 15 years for this!"

Source: JCK