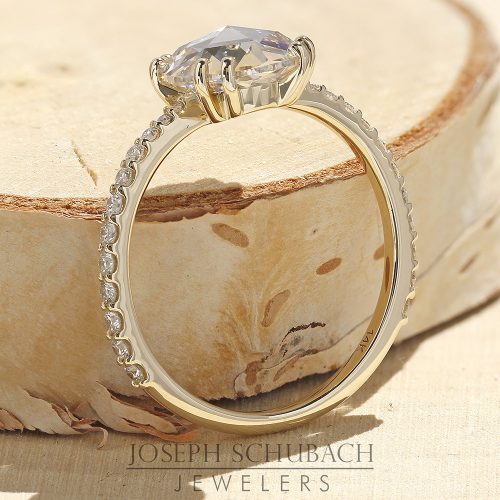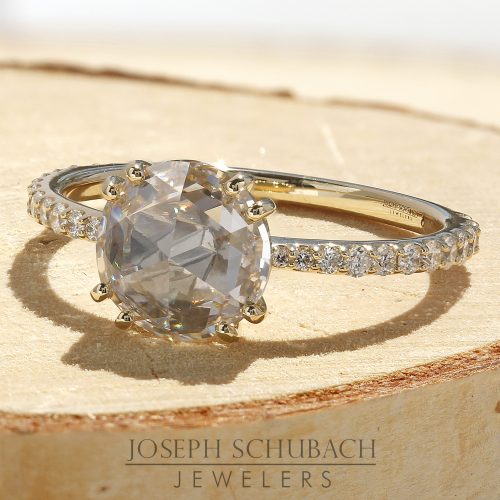 Above, a custom made rose cut diamond engagement ring we just presented to a client. We made a solid base with a design on it and rhodium plated it so it reflects white in a random pattern. Yellow gold adds to its popular appeal.
What is a rose cut diamond? 🌹
The rose cut adds a certain unmistakeable and captivating depth and dimension. A transparent light catcher with a rich history.
The rose cut was created in the 1500's and could be seen frequently in the Georgian and Victorian eras. Similar to other antique cuts of its time, rose cut diamonds were crafted by hand and meant to dazzle under candlelight, which they did. (Rose cuts performs amazingly in low light conditions.)
How would you describe the appearance and appeal of a rose cut diamond?
Rose cut diamonds have a magical appearance, inviting and almost hypnotic. They allow a deeper look into the gem itself.  They don't have that disco-ball bling of full cut gems but make up for it with a more complex look into the gem itself.
Rose cuts also have a larger area and appear visually larger than a gem of the same carat weight.
Why does clarity count when choosing a rose cut diamond?
Because a rose cut gem is transparent, there is little to distract the eye from flaws and inclusions. When it comes to choosing a rose cut diamond, go for superior clarity rather than a higher color grade. It's all about a crystal clear look inside the diamond.
How can I have a rose cut custom design engagement ring like this, please? 🌹
Reach out to us. We love making custom design dreams come true. And we love rose cut gems!