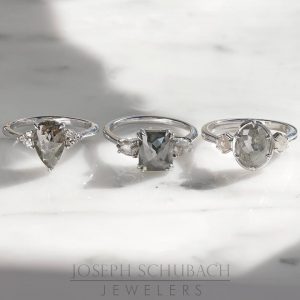 Aren't these salt and pepper diamonds simply to die for? We think so.
Interested in a custom design piece for yourself? We can make your dream ring a wearable reality.
How to get your dream ring:
It's simple. Share your ideas, images or Pinterest boards with us. Or have a one-on-one custom design consultation with a member of our team. We'll combine your favorite elements to create a completely unique ring just for you.
Choose your gemstone:
Mined diamonds
Other lab grown diamonds (Pure Grown, Brilliant Earth)
Custom cut gemstones (sapphires, rubies, etc.)
Choose your metal:
14kt or 18kt gold
Mocha gold
Platinum
Rose, white or yellow gold
Palladium
Share your ideas via:
Pinterest boards
Collected images
Written or drawn ideas
Be involved in the process:
Review your personal project page for updates.
Provide feedback throughout the entire process.
Share updates with friends and family.
Review a 3D print of your piece to ensure complete satisfaction before it's made.
See a professional video of your piece after it's complete.
Unsure of what you want?
That's okay too. Our seasoned team of custom designers is waiting to talk to you. We'll ask you just the right questions to get you started with the magical process of custom design jewelry.
Call (888) 724-8222 or reach us at support@schubach.com. We generally respond within 24 hours (and never share your email address).
More contact info here:
https://schubachstore.com/pages/contact-us