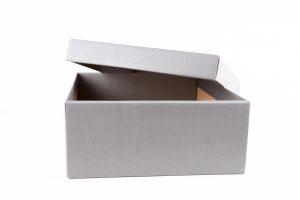 We can only hope you've received a ton of jewelry this holiday and have a slew of jewelry boxes to reuse or upcycle.
But what exactly can be done with your average cardboard jewelry box? What other uses does it contain within?
Here's a few possibilities for your used jewelry box:
Change keeper. If you still use change in your life (think laundromat or toll booth), a pretty look box holding your change is both practical and pretty.

Board game pieces. Many board game pieces are hopelessly strewn about, especially over the holidays. Keep game pieces in one piece and not underfoot.

Barbie doll suitcases! 

Special treasure boxes. Use for an important lock of hair, a secret note or a first tooth. Write a note to self on the inside of the box.

Reuse for other jewelry. Of course, the obvious answer right? But not just jewelry. Think of other small items, like collectible stamps or pretty buttons that might find a happy home in a previously used jewelry box.
What about you? What ways have you reused or upcycled jewelry boxes?