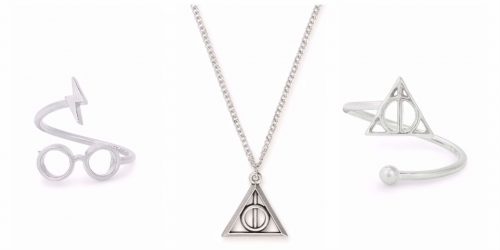 While there are a wide variety of Harry Potter-related accoutrements to currently choose from, we took notice of this recent jewelry line that seems to be a "cult" above the rest. Hailing from eco-conscious jewelry company Alex and Ani (and partnering with Warner Bros.) this sophisticated jewelry line is geared toward the grown-up lovers of all things Potter:
According to The Daily Dot:
The 11 pieces in the collection—including necklaces, bracelets, rings, and earrings—are classy enough to wear to the office or more formal occasions, while providing a clear nod to J.K. Rowling's magical world. Fellow fans will recognize unique symbols like the Deathly Hallows and Harry's iconic glasses crafted in sterling silver and gold plating. Even better, the collection is pretty affordably priced. The wrap rings start at $28, while the set of three expandable bangles top out at $98.
If you have a particular film or book whose symbols inspire you, we can custom design wearable art just for you!