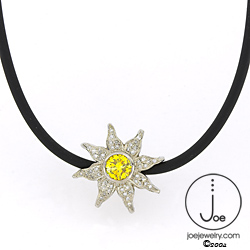 Interestingly, some trends just don't seem to be going away. Statement necklaces and cocktail rings have been "all the rage" for a few years now, for instance. As the summer fast approaches, the jewelry tends to lighten in weight and brighten in color.
Here's what fashion expert Diamond Girl has to say:
The winning trends for 2010:

¨ Big and bold
¨ Dramatic, unique, unusual necklaces
¨ Huge cuff bracelets with big stones
¨ Natural stones, eclectic natural look
¨ Swarovski crystals
¨ Black
¨ Multi-strand necklaces
¨ Pearls
¨ Cocktail rings with huge stones
¨ Big hoop earrings

Believe it or not, popular jewelry colors in 2010 are yellow and Coral! This means that your simulated canary diamond jewelry will look perfect when paired with your cold weather wardrobe. In addition, citrine, yellow topaz or their cubic zirconia substitutes will bring some welcome sunshine (and some love! ) into your life as you remain on top of the seasonal jewelry trends.

For bead and handmade jewelry, Coral is going to be HOT. Looking ahead I see that Black is going to be big player…did someone say attitude?
On a final note to the upcoming seasonal  Jewelry Color Trends remember that some of the traditional favorites will be returning.
Among them, shades of green, gray and chocolate brown will once again be a wise choice for fashion conscious consumers. What does this mean for jewelry lovers? Quite simply, it means that smoky quartz, simulated chocolate and/or champagne diamonds will be in style and on trend! And you won't believe how great Chocolate Gold looks!
(Chocolate gold earrings below.)