Striking a balance between fashion, comfortability and professionalism isn't always easy. And to do it five days a week? Well, there are some basic rules to adhere to, making choosing an outfit easier, especially first thing in the morning!
According to Sherry Maysonave, founder and president of Empowerment Enterprises, it's important to accessorize properly. She states that "most business casual outfits need a boost from jewelry to convey professionalism and authority".
However, with jewelry you need to be especially cautious in order not to cross an almost imperceptible line of what is considered work appropriate and what is not. Here are some good advices which will help you stay true to yourself and look work appropriate at the same time.
A must-follow rule: no nose jewelry, eyebrow jewelry or any other extreme face jewelry. You can show off your sleek and urban personality to your friends, but not to coworkers.
Bracelets are timeless, but jangly ones, like charm bracelets or multi-chain bracelets, will annoy your colleagues with constant clicking. Try to wear one or two bracelets at most. Great work-appropriate options would be a bangle bracelet, a single chain bracelet or a small cuff bracelet.
Stay away from the earrings that are too big and dramatic, such as huge hoops or chandelier earrings. Opt for pearl or gemstone stud earrings.
Necklaces can definitely add some flavor to your outfit. Although, think twice before wearing something too long, overly bulky, and too sparkly. Go for a thin necklace with a cute small pendant or choose a single pearl necklace.
If you like stone jewelry, choose the stones that match your suits, blouses or any other clothing. One of two beautiful jewelry pieces will make you look more polished and put together. Labradorite, opal, carnelian, amber, mother of pearl, onyx, and jasper are all classic colored stones that would work right for the office.

Source: Because.com
Here's a great choice for any day of the week: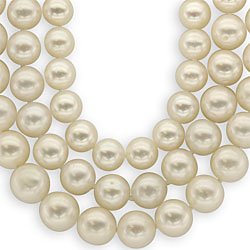 Single strand freshwater cultured pearls, 17″ with 14kt yellow gold clasp.