Nowadays, engagement rings and wedding bands are an investment for couples. Some don't feel comfortable just leaving it up to chance or the groom's ability to choose the right piece of  jewelry (nothing personal guys – but you don't always know best!)
Today's bride is taking part in the process of choosing or often creating her own engagement ring or wedding band. It takes the guesswork out and opens the door for countless possibilities.
The couple can decide on the materials use in the ring's creation, whether it's naturally-mined diamonds or diamond alternatives such as moissanite or cubic zirconia. Metals such as platinum or silver or gold are decided upon mutually as well.
Some may think that building an engagement ring takes the mystery or fun out. Others really like working together to come up with an engagement ring that reflects both parties' personalities.
If you're unsure how to custom design or semi-custom design your own engagement ring, contact us. It's our speciality and we'd be happy to walk you through the process.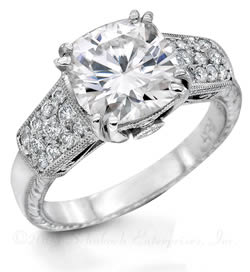 Style 8714M
Hand Made Cushion Cut Ring With Pave' Diamonds
Custom made fashion ring featuring a cushion cut center stone and 1/3ct t.w. pave' side diamonds with a bezel set diamond on each end. This piece is hand made and has hand applied filigree engraving and scroll work on two sides, approximately 5mm wide at the top. Also made to accommodate round, cushion & princess center stones starting at 2.0ct and shown with a 2 1/2ct.