We're often asked how our business is faring in a trying economy. And there's no easy answer to that question. Overall, we've maintained because we have a loyal customer base who've come to depend on our stellar service and high-tiered craftsmanship.We realize the importance of fostering our relationships with our customers…and after three generations, we think our formula works.
Looking at the jewelry market overall, you'll find some mixed news, such as this Wall Street Journal piece:
Consumer electronics products were strong sellers in December, rising 7.3%, SpendingPulse said. Luxury merchandise, excluding jewelry, grew 5.5%, turning positive after a 7.3% decline in November, and jewelry sales rose 6.9%, their fourth consecutive monthly gain, SpendingPulse said.Still, high-end items are not capturing the most consumer dollars. Discount mass merchants like Costco Wholesale Corp. (COST) and BJ's Wholesale Club Inc. (BJ) are again expected to show the most comparable-store growth for December, at 3.9%, while teen and children's apparel retailers are pegged for the biggest decline, at 4.3%, Thomson Reuters said.

Wal-Mart Stores Inc. (WMT) is part of the mass merchant group, but will not be reporting same-store sales after halting the practice last year. Jefferies Group feels the nation's biggest retailer had strong December results. Wal-Mart delivered a "clear holiday sales message, combined with more aggressive pricing and easier comparisons" that produced a low-single-digit percentage gain, putting Jefferies' quarter-to-date estimate toward the upper end of Wal-Mart's forecast for a 1% gain to a 1% drop.
So we're seeing a little hope on the horizon, economically speaking. People are beginning to buy again, slowly but surely. At Joseph Schubach Jewelers, we realize budgets are tight and can find you a piece tailor-made to fit your checkbook. You name the price, we name the piece – it's that simple.
Check out these earrings below. These are a phenomenal deal and a store favorite: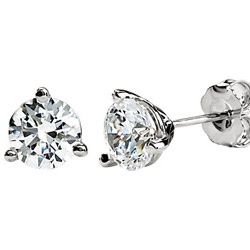 Martini style three prong earrings with Charles and Colvard created round moissanite.
SAVE 60% while supplies last.
2.50ct t.w. (dia equiv) Reg. $1649 Now $659.60
Use Coupon Code "Discount60" at checkout.