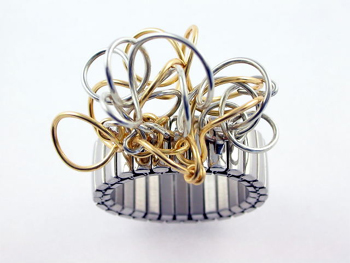 I don't know about you, but I heard this one ever since I was a small child: "Don't mix gold with silver." This was akin to wearing white after Labor Day or your handbag and shoes not matching. It's funny how those "rules" get stuck in our head…often needlessly.
Guess what? It's FINE to mix metals! Mix away. Wearing matching metals is a traditional look, but aren't you looking for something a little more contemporary?
According to one fashion expert:
The trick is, if you want to mix metals, keep the style of the jewelry the same.

A modern gold cuff won't look right paired back to dainty, antique platinum and diamond earrings. The "stacking trend" lends itself perfectly to the mixing of metals. Stack square or round rings or bangles in different shapes of gold.

You can even layer gold and silver necklaces for a fashion-forward look.
Sometime rules were meant to be broken!