5 carats for 5 million. That's approximately the asking price of this one-of-a-kind pink gem…and boy, she's a looker: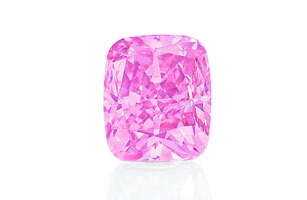 Known as "The Vivid Pink," this precious gem is set to lead Christie's Hong Kong sale this fall.
According to a media release from the New York-based auction house, The Vivid Pink is the largest potentially flawless fancy-vivid-pink diamond ever offered for sale at auction.
Property of a private collector and set in a ring by renowned jeweler Laurence Graff, the diamond is expected to go for about $5 million-$7 million. Better break that piggy bank of yours!
The Vivid Pink will be on display in the following cities: New York, Oct. 17-20 at Christie's Rockefeller Center Galleries; Singapore, Oct. 29-30 (by appointment only); Bangkok, Thailand, Nov. 11-12 (by appointment only); Geneva, Nov. 15-17 at the Four Seasons Hotel des Bergues; Taipei, Taiwan, Nov. 21-22 at the Fubon Life Assurance Building; and Hong Kong, Nov. 27-Dec. 1 at the Hong Kong Convention and Exhibition Centre.
According to the release, Christie's holds the world-record price for a pink diamond at auction and has achieved three of the five top prices for pink diamonds in the international auction jewelry market.
The current record for a pink diamond sold at auction is $7.4 million, fetched by a 19.66-carat rectangular-cut fancy-pink diamond with VVS2 clarity, which sold at Christie's Geneva in November 1994.
Source: National Jewelry Network
If the Vivid Pink seems a little out of your price range, remember, we offer fancy colored gems for a fraction (and we do mean a fraction) of the price: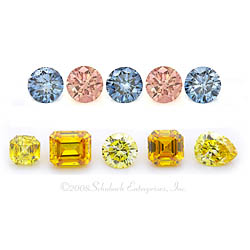 Choose Your Style
Custom Made Jewelry Using Gemesis Cultured Diamonds
Do you have a design in mind using Gemesis and Chatham Cultured Diamonds but don't see it on our site? We can custom make just about any design. Call our toll free number 888-724-8222 and we'll help you find the perfect cultured diamond and make the perfect piece.