You've heard the expression, "She's a fashion victim,"claimed to have been coined by Oscar de la Renta. Buying jewelry that doesn't suit you but suits a trend is not always in your best interest (unless you can afford to keep up with the constant changes!)
It's best to find a piece of jewelry that is timeless and adaptable and distinctly you, especially if budget is an issue. The idea to remember is: you should wear it, it shouldn't wear you!
Here are some other pointers when choosing:
Go easy when going big and bold. If you're going to wear large bangles or necklaces, don't wear delicate jewelry as well. Also, try to stick to solid color, simple clothes rather than frills or prints. Big, bold jewelry should be the focal point of your outfit.
Wear only the cocktail ring. If you're wearing a large cocktail ring, don't wear other, smaller rings (except for a wedding ring).
Mix metals but not styles. It's okay to wear gold and silver jewelry together, but keep to the same style. For example, wear two delicate chains rather than one that's delicate and one that's thick.
Wear the right length. A necklace that falls just below the collarbone goes better with a plunging neckline than a high one. A necklace that falls below the bust goes with a high neckline. Chokers look great with strapless dresses. Never wear a necklace that falls to the top of the bust with a plunging neckline.
Wear pins anywhere. Pins can go on handbags, belts and even shoes. Attach a scarf to your outfit with a pin. Use pins to hold up the brim of a hat or place several pins around the band. The most ho-hum place to wear a pin is on the shoulder.
Step 6
Go easy at work. For most offices, it's acceptable to wear your watch and wedding ring, plus one ring on the other hand, one necklace, one bracelet and one set of earrings only. The earrings shouldn't dangle. Anything more is considered by most employers to be excessive.
Here's one of our most loved classics. This piece works with practically any outfit and for any occasion: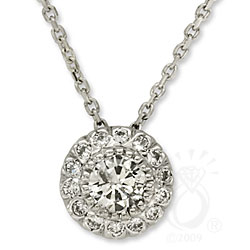 Classic Sweetheart pave necklace with 1/5ct t.w. round brilliant stones set on an 18″ cable chain. Fits a 4.5mm (1/3ct diamond) round center stone. (setting only, does not include center stone).