Anniversary bands are becoming increasingly popular. They are a simple, elegant and effective way to show and renew the longstanding love between you and your spouse. And in a day when divorce constitutes the demise of almost half of all marriages, isn't a longstanding love worth celebrating?
Many couples will celebrate a landmark anniversary with an anniversary ring, such as their 25th or 50th – but there is no ironclad rule. When you use materials such as moissanite or Gemesis, an anniversary ring becomes a more accessible and affordable gift on any anniversary.
Typically, anniversary rings are worn to compliment the wedding ring itself. Or sometimes, an anniversary ring is reminiscent of the original engagement ring.
Many women wear anniversary bands with their wedding sets on their left hand. If the anniversary band is more elaborate than the set, it it acceptable to wear it on the right hand. Occasionally, a woman may choose to wear her anniversary ring alone, because her wedding set it outdate or no longer suits their style.
Whatever the case, an anniversary ring makes an ideal gift for your spouse.
Below is one of our most popular anniversary rings: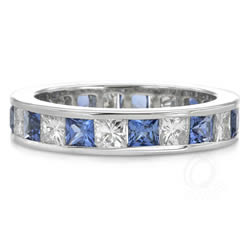 Channel Set Moissanite And Blue Sapphire Anniversary Band
Channel set anniversary band with Charles and Colvard created princess cut moissanite and Chatham created blue sapphires set all the way around with a total gem weight of 3 3/4ct! Band is 5mm wide.