From moissanite to Lucite, the focus of today's jewelry is big, bold and clean. A simple outfit can be accentuated in a big way with a statement piece that gracefully takes center stage.
"It's the jewelry that actually makes the look," says fashion stylist
Jesse Garza, co-founder of Visual Therapy, a New York wardrobe
consultancy, and co-author, with his Visual Therapy partner Joe Lupo,
of Life in Color: The Visual Therapy Guide to the Perfect Palette for Fashion, Beauty, and You!. Says Garza,
"I love a flattering, clean backdrop with a statement piece–a pop of color."
According to Forbes:
This year, the emphasis is on bold, chunky jewelry–a triple-strand of
big beads; a thick, geometric bangle; an oversized ring. Perhaps as a
reaction to tough economic times, precious jewels have been stowed
away, replaced with semiprecious stones such as lapis, pyrite and
quartz; and materials such as horn, resin and even Lucite.

"I think
today, to walk around with a stack of diamond bangles doesn't feel
right," Garza says.

His and Lupo's picks for great daytime jewelry:
chunky, midsized hoop earrings; wood cuff bracelets; and turquoise bead
necklaces.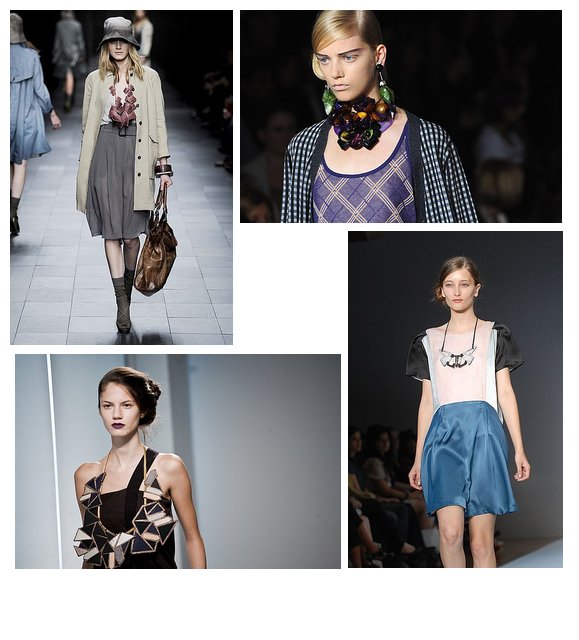 Don't let the sagging economic times take away the bling in your life! These trendy choices allow you a sense of wealth without the…wealth! Moissanite, for instance, can make you feel like a million bucks without (again)…the million bucks!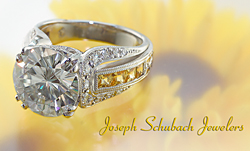 Hand Made And Engraved Moissanite Ring With Yellow Sapphires And Pave' Diamonds
Hand
made/hand engraved platinum ring with a 4.50ct (dia equiv) Charles and
Colvard created round moissanite, 1/2ct t.w. yellow sapphires and 1/3ct
t.w. pave' diamonds. Also available with pink or blue sapphires.