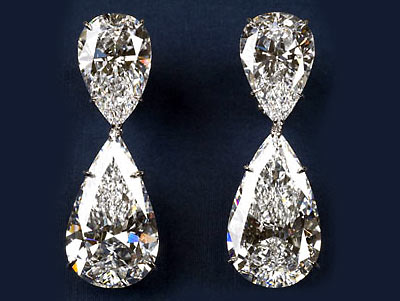 Harry Winston
Extraordinary Diamond Drop Earrings
$8.5 million
According to Forbes, these earrings may be one of the most expensive pieces of jewelry in the world. And with 60.1 carats to these pear-shaped diamond drop earrings, who would expect less?
You may sigh with diamond envy, but figure it this way: you'd have to hire your own personal bodyguards every time you wear them. And you could never casually say, "Oh shoot, I lost an earring." Instead, you'd bellow, "I just lost four million bucks! Four MILLION bucks!"
At Joseph Schubach Jewelers, we can create extraordinary diamond (or moissanite or clarity-enhanced diamond) earrings like this for a fraction (and we do mean a fraction!) of the price. We specialize in recreating fine pieces like the ones above at a price you can afford.
Better yet, join our DIY (Dream it Yourself) Custom Design Jewelry Contest and create drop earrings that are drop dead. Just by entering, you save 50% in custom design fees. If you're piece is chosen as the Winner, you win $500 toward your purchase.
At Joseph Schubach Jewelers, you create the price, we create the piece!