Perhaps you haven't heard of Loree Rodkin but Michelle Obama certainly has. Rodkin is a former interior designer who switched over to
jewelry making over a decade ago. Her client list is stocked with powerful
women such as Cher, Sharon Stone and of course, the First Lady herself.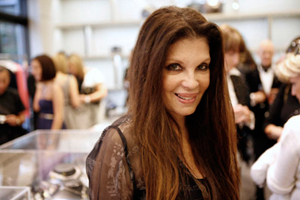 "It's
a privilege to be a part of history," Loree Rodkin revealed in an an AP report. "The
First Lady is a symbol of hope, courage and great style. I am honored that she
has chosen my jewelry."
First Lady Michelle Obama's shoulder-length diamond earrings at
the
Inaugural
Ball were Rodkin's white gold and triple rose-cut danglers with garland
diamond briolette drops.
If you want that dazzling Rodkin look for a fraction of the price, consider Josephs Schubach's Custom Design Jewelry. We're more than just custom design jewelers – we're professional artists specializing in high-end custom design jewelry. 
These eye-catching Rodkin earrings can be remade with your design input and our artistry for a look that is distinctly high-end.