The Oscars are known for uber-glamor and royalty-infused decadence. But during these tough economic times, how can a star shine, while showing some sensitivity and awareness to our current situation? Certainly, there was less bling to be seen in general. The choices were more selective and simpler, yet glamorous nonetheless.
As one commentator put it: "It's a recession, not an apocalypse."
"No one wants to be inappropriate in a time when people are
struggling," said Sally Morrison, director of the New York-based
Diamond Information Center. "The trend is fairly big, but fairly
simple. Classic styles with sizzle that any woman can wear." Other
jewelers say colored stones are also being considered over diamonds.
"Rather than making sure that you have the necklace, earrings, bracelet
and ring, it's more about the one thing that can say it all," said
Rebecca Selva, spokeswoman for jeweler Fred Leighton.
Here's a few examples of bling on stars, even during penny-pinching times: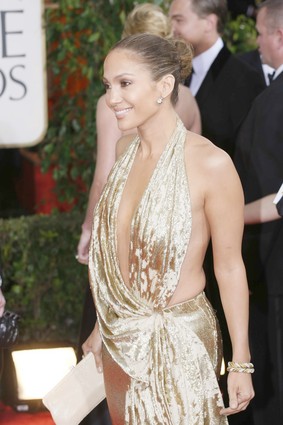 Jennifer Lopez, keeping it simple and elegant at
last month's Golden Globes
.