You know who you are. You buy your mother a bouquet of flower at a roadside stand on Mother's Day. You consistently forget your best friend's birthday to a point where its become a running joke. You sweat it out with the masses on Christmas Eve. And now here comes V-Day, where expectations can run high for a last minute person such as yourself.
Joseph Schubach Jewelers offers elegant solitaires, guaranteed to sweep any significant other off their feet. Solitaires send a message of divine beauty, loyalty and simplicity. Keep it simple this year by going with a solitaire. Perfect for a newer relationship or someone on a limited budget.
Surprise everyone. Send a message that you didn't forget this year!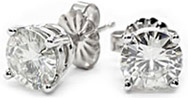 Classic Round Brilliant Moissanite Stud Earrings