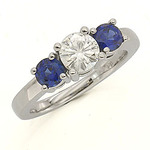 Beth and company-
My anniversary ring just arrived and I am completely blown away by
the beauty of the stones. I love, love, love the setting and I really
am at a loss for words to describe how stunning the Chatham sapphires
and moissanite look together. Thank you for creating the perfect
anniversary ring for me. My husband was so pleased to see such quality
workmanship from an online jeweler. We both agree that your company will be
the place we go to when we need something else.
This ring was
definitely worth the twenty year wait!!
From the bottom of our hearts- thank you…
Dave and Dorothy