If you've ever dreamed of combining your blingiest engagement ring with your wedding band, it might look a little something like this: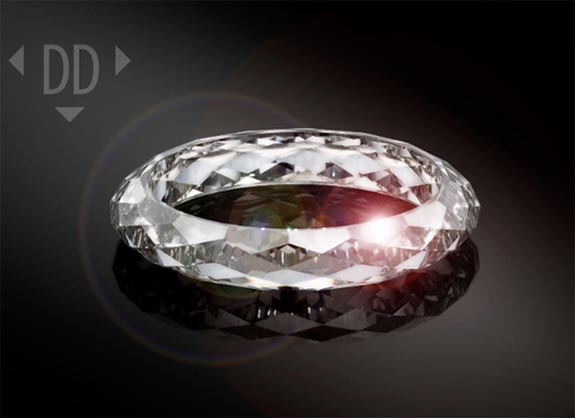 For custom designer, pieces like this make us so proud to be working with lab grown diamonds.
An all-diamond ring from a 155-carat plate of lab-grown material
Unromantically dubbed "Project D," this amazing one-off ring was polished using laser cutting as well as traditional techniques. The final product showcases 133-facets and a total weight of 3.86 carats.
HRD Antwerp, Europe's leading authority in diamond grading, determined that the ring has a clarity grade of VVS2 and a color grade of E, with excellent symmetry and very good polish.

"DD might be relatively new to cut diamonds for the jewelry market," noted Michel Janssens, CEO of HRD Antwerp, "but they have created an impressive ring for their 10th anniversary. The outstanding cutting and polish work has resulted in a brilliant light reflection which emphasizes the beauty of the ring."

"For our 10th anniversary we wanted to create something stunning that would highlight our innovative and high-tech techniques," said Ton Janssen, CEO of Dutch Diamond Technologies. "I think we've more than succeeded with the one-off "Project D" ring. It's a true 'European' ring: Grown in Germany, cut in the Netherlands and graded by HRD Antwerp in Belgium."

The quality and carat weight of CVD synthetic diamonds has increased drastically over the past 10 years. DD reported that the 155-carat plate from which "Project D" was carved took five weeks to grow in its laboratory.
Synthetic diamonds have indeed come a long, long way. As early adopters, we've experienced this phenomenon first hand. If you're looking for an anniversary band using beautiful, affordable and eco-friendly materials like synthetic diamonds, contact us.