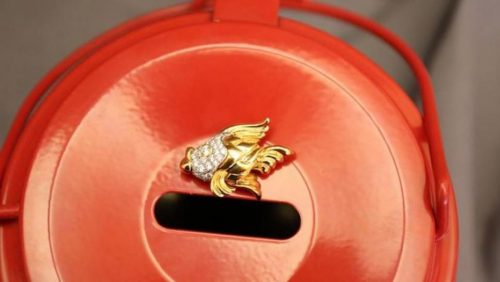 The red kettle of the Salvation Army has practically become synonymous with the holidays and a reminder that others are in need during this time of year. Though a recent trend shows that people aren't just giving spare change. Some are donating expensive jewelry instead.
According to WHDH:
"A donor reached out," said Salvation Army Director of Communications Drew Forster, "saying she wanted to donate a piece of jewelry. She was a little nervous that it was actually going to fit in the slot of our red kettle."

The Salvation Army of Boston says that anonymous donor wanted to give a golden fish pin.

The fish features 18-karat gold and 32 diamonds.

When it was purchased nearly 20 years ago, it was valued at just under $5,000.
It stands to reason that people would donate jewelry. Many of us have expensive pieces of jewelry occupying space in a dusty jewelry box when it could go to better use.
So happy holidays and kudos to all you jewelry lovin' charitable folks out there!