While we don't believe much in superstition here at Joseph Schubach Jewelers, we couldn't help but smile at this very particular survey.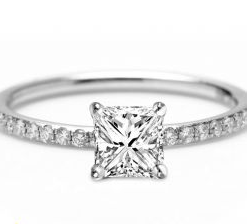 Bad juju?
British website comparejewellery.com researched what it calls the "unluckiest engagement ring"—the ring most commonly worn by brides whose marriages end in divorce. 

The site asked 1,812 women age 18 and over, all separated or divorced, about their engagement ring. According to the site, the ring with the worst juju has a white gold band with a large square-cut stone and diamonds on shoulder. It costs an average of £822.30 ($1,341.09).

"The ring itself is both incredibly beautiful and a popular style, but maybe that will change once people know its somewhat unlucky reputation," said Ali O'Neill, head of product at comparejewellery.com, in a statement.

Bad luck or no, more than a third (35 percent) of respondents still claimed to wear their engagement rings even after their marriages ended.
Well we have a special diamon fairy that blesses each engagement ring with long-lasting happiness, so not to worry if you choose your ring from us!