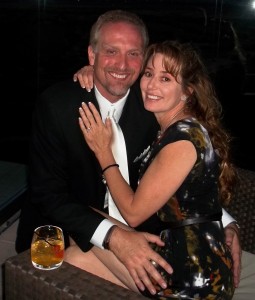 ….she said yes!
I can't begin to say thank you enough for everything that you both did to make last Saturday night incredible.  When Amy and I first began looking around I told her that I want to find an engagement ring that would take her breath away, make her speechless, and make her cry tears of joy.  The beautiful ring that you designed accomplished all three.
When I pulled the ring out and popped the question Amy gasped so loud that people turned to look to see what was going on.  She then covered he mouth with both hands and shook her head yes as her eyes filled with tears.  We hugged for what seemed like an hour and then I slipped the ring on her finger.  As I was still kneeling in front of her two ladies who had been watching the whole thing from across the veranda came over and thanked us for allowing them to be a part of something so beautiful and surreal.  The attached picture was taken by them just minutes after I proposed – I was still kneeling.  I don't think Amy has taken her eyes off of the ring since.  I regularly catch her just staring at it with this amazing smile on her face.
She is looking forward to seeing the designs for the wedding bands.
Joe and Beth – thank you again from the bottom of my heart.
Dave
PS – Amy wants you to discontinue offering rose gold in her ring style.  J