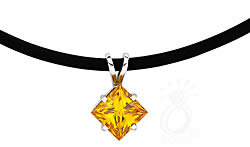 Style 8963GM
1/3ct Princess cut solitaire diamond pendant set diagonaly, hanging from a black rubber cord. Available in fancy yellow, orange, pink and blue cultured diamonds.
Metal: 14kt White Gold
Stone size: 1/3ct
Colored gemstones like Gemesis can add real pizazz to your wardrobe. They are eye-catching and often, more affordable than diamonds. But just as buying diamonds requires some basic knowledge, so does the purchase of colored gemstones. Here's a few pointers from the Better Business Bureau:
Many new stone treatments have been developed to improve the appearance and durability of gemstones. However, a treatment may lower the gem's value and may require special care to retain the gem's appearance.

Laboratory-created (synthetic) stones are identical to natural stones but do not have their rarity and cost; thus, laboratory-created stones are less expensive than naturally mined stones.

In contrast, imitation or "assembled" stones resemble natural stones in appearance, but may be glass, plastic or other less valuable stones.

Follow these tips:

Ask whether the gemstone is natural, synthetic or imitation.

Ask whether the gemstone was treated in any way.
Learn to use a jeweler's loupe (small magnifier) to see inside the stone to check if it is chipped or damaged in any way; ask the salesperson to educate you about the quality of the gemstone.
Be sure you get everything in writing. A sales receipt or appraisal listing the quality of the gemstone is considered a contract and is your only means of proving what you have been told.
Read all warranties and guarantees before buying the jewelry.
Ask for a certificate of replacement cost or appraisal listing the special qualities of your gemstone to accompany your receipt.
Ask about the cleaning and care of the gemstone.

Learning how to use a jeweler's loupe is a great suggestion. We're more than happy to show you how. Stop by our showroom in Scottsdale, Arizona. We'd love to show you around.
(above) Jewelry professionals use a magnifier, also called a loupe (pronounced loop), to inspect gemstones and other jewelry.