Golden Facts:
Gold is the most popular metal used in jewelry making. Here are some other uses of this precious metal:
McLaren F1 uses gold foil in the engine compartment
Gold is used in astronauts' helmets
Gold can be used in food. Goldwater, traditional herbal liquor produced in Poland and Germany, contains flakes of gold leaf. There are also some expensive ($1000) cocktails which contain flakes of gold leaf.
Gold is used in the connectors of expensive electronic cables like audio, video and USB cables
Gold is used in computers, communications equipment, spacecraft, and jet aircraft

engines
Colloidal gold (also known as "nanogold", is a suspension (or colloid) of sub-micromete-sized particles of gold in a fluid – usually water) is used in research applications in medicine, biology and materials science. Colloidal gold is also the form of gold used as gold paint on ceramics prior to firing.
It is used for the protective coatings on many artificial satellites
It is used in infrared protective faceplates in thermal protection suits
It is used in electronic warfare planes like the EA-6B Prowler
Gold is used as the reflective layer on some high-end CDs
The isotope gold-198 is used in some cancer treatments and for treating other diseases
Gold leaf, flake or dust is used on and in some gourmet foodstuffs, notably sweets and drinks as decorative ingredient
Gold alloys are used in restorative dentistry, especially in tooth restorations, such as crowns and permanent bridges
Gold can be made into thread and used in embroidery

Source: Purple Slinky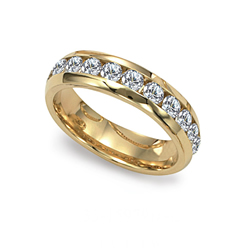 Styel 7233WB
Ladies' anniversary band, 1.0ct t.w. channel set diamonds, 14kt yellow gold.
Metal: 14kt Yellow Gold
Stone Size: 1.0ct t.w.
Ring Size: 4 – 8