Location, location, location…and it applies to the world of proposals as well. Whether you're giving a moissanite engagement ring or a fancy colored gem like Gemesis, atmosphere is everything, as this MSNBC article points out:
THE CLASSICS

La Basilique du Sacré-Coeur, Paris

Proposing in Paris may be a cliché, but clichés exist for a reason, especially this one.Near dusk, head to the top of Montmartre; if you can tolerate the steep streets and steps, which aren't too difficult, skip the funicular and go by foot. Walk through Le Moulin de la Galette (the setting for Renoir's masterpiece of the same name), but avoid Pigalle (the setting for Paris's red-light district). Head to the illuminated Basilique du Sacre-Coeur and relax on the white stone steps of the famed church. From here you'll get the best view of Paris that doesn't require an admission fee or lengthy wait.
If that vista doesn't inspire love, tell your sweetheart it was the setting for U2's "Two Hearts Beat as One" video. And while it might make that engagement ring you bought dim in comparison, time your walk back so that you see the Eiffel Tower after nightfall: At the start of every hour until 2 a.m. (1 a.m in winter), its 20,000 bulbs glitter for 10 minutes.

Central Park, New York City

With 843 acres of lawns, woodlands and lakes, Central Park is a relaxing retreat in the middle of Manhattan. If you can't find a romantic setting here, it's your fault, not that of the park's main designer, Frederick Law Olmsted, whose general plan for the park persists today despite many additions.

In the winter, ice-skating at Wollman Rink is a great way to get your beloved's heart racing. Later, take a break for hot chocolate and popping the question.

When the weather's warmer, the Conservatory Garden's six acres make a great proposal site — they're filled with hedges, as well as an impressive number of roses. Or propose marriage on a rowboat rented from the Loeb Boathouse.

And if you're afraid that a proposal in a free public park might seem cheap and less than romantic, don't be — Central Park's property value was appraised at $528 billion in 2005.

Piazzale Michelangelo, Florence

This 19th-century terrace with a sweeping view of Florence, framed by the Arno River and the Tuscan countryside, is one of the most romantic sites in a country full of them. (While on a solo trip through Italy, I almost proposed to myself here.)

The plaza attracts a lot of tourists, however, so make sure the subject of your wooing is looking out to the Duomo and the Ponte Vecchio, rather than at people dripping gelato on their jean shorts.

Guidebooks suggest riding local bus No. 13 to Piazzale Michelangelo, but it's better to go by foot; it's a romantic 30-minute stroll through a charming part of Florence's Oltrarno district that you wouldn't otherwise visit. And public transportation is rarely romantic.

Grand Canyon National Park, Ariz.

There's something about looking into a gaping display of two billion years of the Earth's history that says, "Hey baby, we can make it until death do us part." The colors brought out at sundown give the Grand Canyon one of the most beautiful sunsets in the world (try to catch it at Hopi Point on the South Rim, which has a view that stretches at least 30 miles and includes a glimpse of the Colorado River). At 277 river miles long, as much as 18 miles across and a mile deep, the canyon's got plenty of secluded spots of proposing.

And if getting to such a place on foot or by mule doesn't appeal to you, there's always helicopter: Papillon Grand Canyon Helicopters, a tour company, has had many customers get engaged during a romantic picnic on the canyon floor (just make sure your intended is comfortable hovering 5,000 feet above the ground on the trip there and back).

Mandarin Oriental Hotel, Authors' Lounge, Bangkok, Thailand

Is sipping afternoon tea on white rattan furniture as Siamese umbrellas, bamboo, and palm trees shield you from the sun coming in through the translucent roof romantic enough for you?

While all this atmosphere doesn't come cheap, you'd be hard-pressed to find its idyllic combination of colonial East and West elsewhere. Afterward step outside and buy your betrothed flowers from a wooden long-tail boat as you walk along the banks of the Chao Phraya River.



Siasconset, Nantucket Island, Mass.
'Sconset, as it's sometimes called, is so quaint, rustic, and free of brash day-trippers from Cape Cod that it makes Nantucket's other villages seem like Tijuana.

Rent bikes at Young's Bicycle Shop near Steamboat Wharf ($25 for the day), but avoid the tandem models, which are romantic in theory only. From there pedal to Siasconset, on the island's eastern shore. Buy some picnic food at the 'Sconset Market, and head to one of Nantucket's most secluded and beautiful beaches.

It doesn't matter whether you face the ocean or the bluffs — both are gorgeous. On your way back, stroll along Baxter Road, a grassy lane, to admire the picturesque cottages. It's best in the late summer, when the hydrangeas are blooming.

Wailua Falls, Kauai, Hawaii

There are almost as many places in Hawaii for a kitschy proposal as there are for a romantic one. Stay away from man-made attractions like Don Ho's Island Grill and instead opt for a natural setting.

Wailua Falls, on the east side of Kauai, is one of the best. Although the 173-foot-high falls are in a lush green setting, they are easily accessible by car. And Wailua Falls has a long history of being a choice spot for romantic bravado: In ancient times, Hawaiian men leapt from the top to prove their manliness (unfortunately, they often killed themselves in the process).

And while your friends might not have heard of Wailua Falls, getting engaged here will impress them once you tell them it was in the opening credits of the frequently romantic (and even more frequently campy) TV show Fantasy Island.

Burning Man, Black Rock Desert, Nev.

Held annually in late summer since 1986, this eight-day festival's intention, as stated on its Web site, is to "generate society that connects each individual to his or her creative powers, to participation in community, to the larger realm of civic life and to the even greater world of nature that exists beyond society." (You may also know it as a New Age event where a bunch of naked people come together to make art and party.)

And you might expect Burning Man to disavow a tradition like marriage. But it can be the perfect place for a romantic and symbolic proposal: Its principle of communal effort is the pillar of a strong marriage; it's in the beautiful, often very warm outdoors; and its emphasis on gifting means you'll have one heck of an engagement party.
But why stop there? Weddings are common enough here (there are about 35 a year) that the official Web site has a page devoted to how to get hitched there. You may want to propose earlier in the festival rather than later, though — showering can be difficult.

Kentucky Derby, Churchill Downs, Louisville, Ky.

Thoroughbred horse racing is the sport of kings, so what better way to make your would-be spouse feel like royalty than by proposing at the Kentucky Derby, one of the world's premier horse races?

Held annually on the first Saturday in May, "the most exciting two minutes in sports" provides all the pageantry needed for a memorable proposal. While general admission tickets to the infield (a mob of alcohol-infused barbarians enjoying things other than a horse race) are easier and cheaper to acquire than grandstand tickets, get the latter.

There you can sip $9 mint juleps out of commemorative glasses and check out the expensive, and frequently bizarre, hats. And with plenty of celebrities in attendance, you'll have a great story to share with your friends.

For example, if you'd proposed at the Derby in 2007, you'd have been able to brag that you'd gotten engaged in the presence of Queen Elizabeth (probably best not to mention that it would have happened in the company of O. J. Simpson too).

Macworld Conference & Expo, San Francisco

This one's strictly for the fanboys. If you're an Apple-lover and want your love life to be as integrated as your hardware, propose at Macworld. The world's largest trade show dedicated to Apple technology has been held annually since 1985, most recently in San Francisco this past January.
Before going, make sure you've saved on your iPhone the Robert Hess Macworld Memorial Events List, which catalogs the parties and other events taking place, and you'll have lots of options for a fun, fully geeky place to propose.

If the conference itself isn't romantic enough for you, take a break and propose nearby while hiking in the Don Edwards San Francisco Bay National Wildlife Refuge, or while looking out at the Golden Gate Bridge from Crissy Field.

Regardless of where you propose, we hope you'll be as self-satisfied about your choice of a spouse as you are about your computer.
Okay, well proposing at MacWorld does seem pretty geeky but who are we to judge? Regardless, you'll need the perfect engagement ring and that's where we step in. Check out our Gallery for an affordable and stunning ring – or custom make one with our guidance!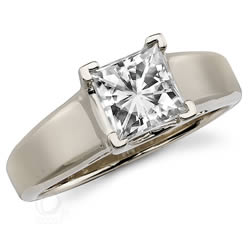 Style 8799MR
Bypass prong princess cut solitaire engagement ring with Charles and Colvard created moissanite.
Available Center Stone Size: 1.36ct-2.16ct