It doesn't take a rocket scientist to figure out why jewelry sales have been slumping these last few years. People are more concerned about meeting expenses, so bling is taking a serious backseat:
Jewelry "sales were down 10 to 20 percent last year — I can't imagine they won't be again this year," said Dione Kenyon, president of the Jewelers Board of Trade, a credit-reporting agency for the industry. "I hear people say, 'Oh, things will [improve] and go back to the old days.' You don't go back to the old days — there is a new order."
There is a new order…and maybe that's not such a bad thing. The economy as well as an ever-emerging eco-consciousness is shifting. Jewelry purchases now include non-mined gemstones like Gemesis or moissanite, whose quality is only increasing. These are not "wannabes" gems. They are spectacular stones in their own right, surpassing the diamond in certain areas.
Maybe this new movement isn't such a bad thing. The consumer still gets his or her "bling thing" for a better price and a greener world.
Stop by our MOISSANITE GALLERY and our GEMESIS GALLERY.
Be part of the new order!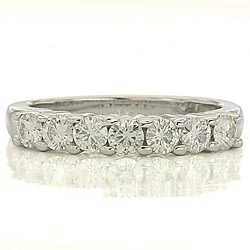 Prong Set Seven Stone Moissanite Wedding Band
Seven stone, prong set wedding band with Charles and Colvard created round moissanite. This ring has the look of an anniversary band without the stones going completely around.
Available Moissanite Total Weight: .35ct-1.75ct