Oh, the big rock! Many of us think a big, stunning diamond is the only way to go. But is it right for you? Let's address the "bigger is better" myth for a second:
1. Consider your personality. Are you an extroverted type? Do you really like the "wow" factor? Then maybe a big diamond (or moissanite or Gemesis) is perfect for you, so you can dazzle with the best of them.
2. Consider your style. Are you an understated dresser? Or do your fashion choices scream, "Look at me!" A ring will be something you'll be wearing for a long, long time. While a big ring looks great while showing it off to friends, it may not be appropriate for the long haul.
3. Quality counts for me than size. There are many large stones out there that have no life to them. Or they may be poorly cut. Or have visible inclusions. A subtle, smaller gem may speak more loudly than a big, ol rock.
4. Setting counts more. You can often have a big diamond feel on an appropriate setting. Diamond shapes such as marquise, pear shapes and oval can exude a larger feel, especially when set properly.
5. Diamond Alternatives. If you simply must have that big experience (but don't have such a big budget to match it), you've never been luckier than now. There are fantastic alternative such as moissanite and Gemesis that are affordable and "wow"able!
All of these factors – and more – come into play when purchasing a piece of jewelry. Big gems may impress…but they may not be right for you. Or perhaps you can have a big rock experience based on a smart cut and setting choice. Bottom line: wowing people is great but a ring needs to match you and your soul. Then it's a big ring, no matter what!
Here's a ring of ours, where the simplicity and clean cut speak volumes: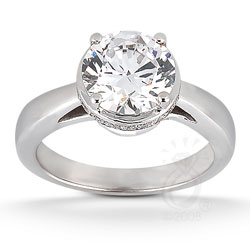 Style 9915-7.5mm
Round Solitaire Engagement Ring With Pave Diamonds
Four prong solitaire engagement ring with 1/10ct t.w. pave' diamonds. Fits an 7.5mm round center stone. (setting only, does not include center stone)