Before Moissanite and Gemesis became popular diamond alternative, many people searched furtively for a way to make diamonds that didn't require all that difficult and messy mining. They wanted diamonds on the easy, basically!
According to ABC Science:
The first successful synthetic diamonds were made in the mid-1950s by the General Electric Company in New York. They began back then with tiny industrial diamonds, and can today make tiny gems – but they are more expensive to make, than to dig the natural ones out of the ground.

Nature makes diamonds some 200-or-so kilometers underground, where the temperature and pressure are high enough. Then a strange geological phenomenon called a Kimberlite Pipe erupts, a little bit like a volcano, towards the surface, carrying diamonds with it. At the surface, the cooled-down Kimberlite pipe is anything from 100 to 1,000 metres across.

Once you have found your Kimberlite, you're on Easy Street. You just dig into the hard Kimberlite, bring all the rock to the surface, and extract the diamonds. In Kimberley in South Africa, the Big Hole has been dug out to a depth of about one kilometre.

Worldwide, the current annual diamond production is split – the mines give us about 20 tonnes of industrial diamonds and 6 tonnes of gems, while the labs provide about 100 tonnes of synthetic diamonds.
Today, more people are concerned about the ecological damage that diamond mines cause as well as the political implications in fractured countries. Diamond alternatives such as Gemesis, moissanite and Cubic Zirconia are extremely high quality – offering the full diamond experience for a fraction of the price.
Take a look at some of our moissanite offerings, for instance: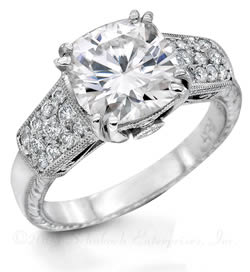 Style 8714M
Hand Made Cushion Cut Moissanite Ring With Pave' Diamonds
Custom made fashion ring featuring a 2.50ct (dia equiv) Charles and Colvard created cushion cut moissanite and 1/3ct t.w. pave' side diamonds with a bezel set diamond on each end in platinum. This piece is hand made and has hand applied filigree engraving and scroll work on two sides, approximately 5mm wide at the top. Also made to accomodate round, cushion & princess center stones starting at 2.0ct
Metal: Platinum
Stone Size: 2.50ct
Ring Size: 4 – 8
Call For Pricing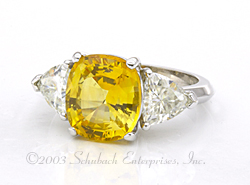 Style 6851M
Genuine Yellow Sapphire And Moissanite Ring
Customized and handcrafted version of style 1250M: 6.80ct yellow sapphire center with 1.50ct (3.0ct t.w. dia equiv) moissanite trillions on either side set into 14K white gold.
Metal: 14kt White Gold
Stone size: 6.80ct
Ring size: 4 – 8