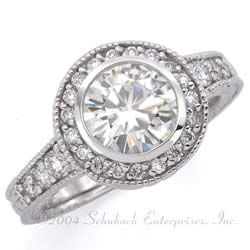 Many women dream of their wedding gown for years but often, their ring is an afterthought. They just want the ring to be pretty, preferably large and certainly dazzling. But the more specific you can be when it comes to the ring of your dreams, the better. You will form a lifelong bond with this ring, so make sure it fits your dream specifications!
A little knowledge about jewelry design is the first step.
First ask yourself questions.
Do want a more traditional ring or perhaps something a little more cutting edge and unusual? What's your personality type? How will your ring reflect who you really are or who you want to evolve into? Your ring should speak to your heart. Take a moment and envision a ring that truly represents you. Ask your friends or family. Consider your hand as well. What kind of ring suits your hand well?
Second, decide on the metal.  Sometimes its better to focus on the metal before you move to the big choice, the stone. The band is your base, your starting point, from which you can build.
Most engagement rings are made in gold or platinum. If you choose gold, the most
popular are 18K or 14K gold and they come in either in yellow gold or white
gold. Platinum is significantly more expensive than gold but is
becoming more popular. Titanium is occasionally chosen as it is extremely
durable but it cannot be formed into intricate patterns and designs.
Last – but not least – choose your stone. Ah, the stone! This is when custom designing your ring becomes deeply personal. Gems are magical, strong stones that represent and strengthen the wearer. Research the history of the stone. Get to know your stone! Which stone resonates with you and your personality?
           And think outside of the diamond box! Check out sapphires, rubies and emeralds as well.
As for size, the same applies. What shape of a stone symbolizes your personality, your character, your soul? Find the shape of the diamond. The common diamond shapes are
round, princess, emerald, marquise, pear oval, radiant, heart and
Asscher.
Creating your own ring assures you of complete satisfaction. Consider making these decisions with your partner. It can be a bonding, wonderful experience – a co-creation of your love. Be imaginative and collaborate!
At Joseph Schubach Jewelers, if you can dream it, we can create it.
Exquisite custom design jewelry is our specialty.
It's what we do best.
Let us bring your dream to life!